Jul 26, 2019 12:21:20 PM - by David Roberts - Herbicide Technical Specialist
3 min
2019 - Zero-tolerance to black-grass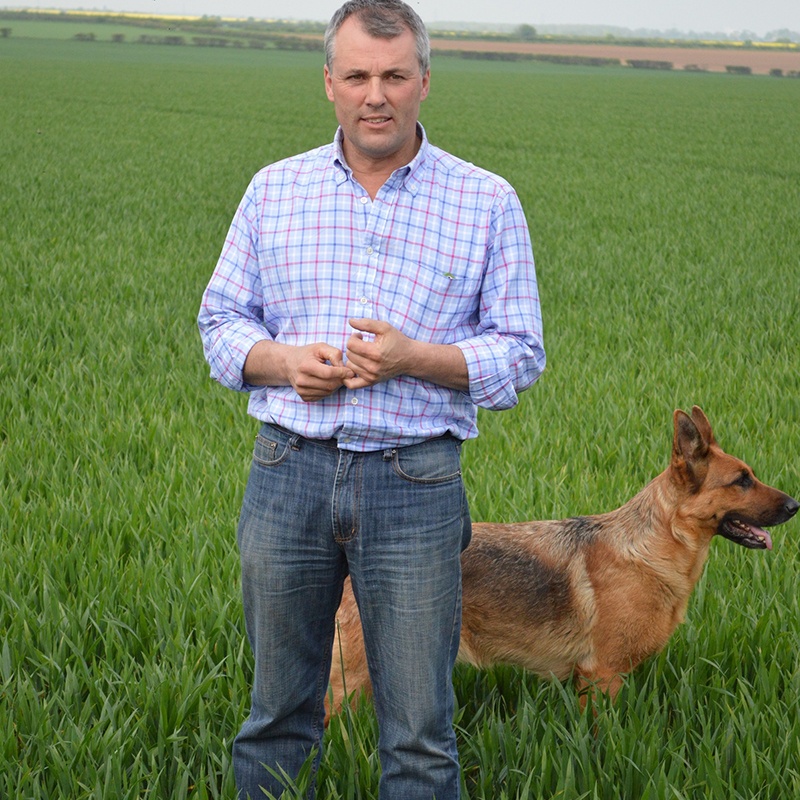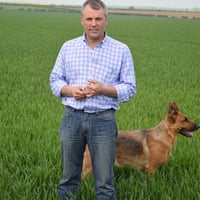 As part of last autumn's weed management hub, we spoke to Andrew Ward of Glebe Farm in Lincolnshire to hear about his zero-tolerance strategy for black-grass control and how large-scale hand rogueing has enabled him to make good progress in reducing the effects of herbicide-resistant black-grass populations (click here to read the original article).
We've caught up with Andrew again this year to find out how his weed control programme has developed in the last 12 months and to get his latest thoughts on the role of new technologies in the future fight against black-grass.
Still learning
We're still very focused on our zero-tolerance approach to black-grass control and still learning all the time. The first year of our 'crusade' was a good example of how we learned from our mistakes: in that year we delayed the start of drilling in order to allow as much black-grass as possible to be sprayed off with glyphosate pre-drilling. Unfortunately, that autumn turned out to be exceptionally wet, and because we hadn't set our soils up early enough, we ended up making a real mess with crop yields suffering as a result.
That experience taught us that if the ground conditions aren't right in future years, we should abort the drilling and defer to a spring crop instead. We're also using the added insurance against wet autumn conditions of cultivating every hectare of land immediately after the combine has been through, even if the next crop won't be drilled until the following spring. To implement this policy, our cultivator operator works completely independently of the harvesting team so that he can concentrate solely on preparing the soils properly.
Managing black-grass in OSR
Last autumn's dry conditions taught us another important lesson in terms of managing black-grass in oilseed rape. On the face of it, conditions were perfect for drilling with crops going in on time with our farm-built oilseed rape direct drill. In hindsight however, the continuing dry weather meant that a large percentage of our oilseed rape area was unable to recover from flea beetle damage. Oilseed rape is notorious for its ability to recover from early season stresses, but with large areas of several fields almost completely bare I took the early decision to spray off 205 of a total of 520 acres of rape.
It was a tough call to make, but I was concerned that if the cover of chopped straw into which the rape had been drilled got wet, we'd have been unable to establish a subsequent crop. We've therefore ended up with more wheat than anticipated in this year's rotation, with the failed oilseed rape being replaced with winter wheat which was sown on October 23rd: this was the first of our winter wheat to be drilled.
In terms of controlling black-grass, that could actually be a blessing in disguise as we've sometimes found it difficult to maintain adequate levels of weed control under oilseed rape. In fact, for the first time ever, we had to spray off a field of spring barley as it was simply too densely infected by black-grass. This was predominantly because the field's previous crop of oilseed rape had given black-grass plants a canopy to hide under which resulted in some seed return.
In hindsight the barley, which was sown in dry conditions at the end of February, probably went in a little too early. We could have waited a few weeks to let the first flush of black-grass seeds germinate, but we didn't want to get caught out by wetter weather. Again, lesson learned and hopefully we won't have the same problem again, especially as we've treated this year's rape with a strong programme of herbicides which, fingers crossed, will mean we see much cleaner rape stubbles when harvest begins in the next week or so.
Having said that, we'll be growing a lot less rape over the next few years as we're trying to move to a 1-in-6 rotation: the threat of flea beetle damage and lower yields means oilseed rape isn't a sustainable option for us on a tighter rotation so we'll be focusing on wheats, barleys, sugar beet and haylage instead. We're also investigating the possibility of growing some novel crops (chickpeas, haricot beans and a niche variety of oats for a health drink) with Agrii.
Hand rogueing
Compared to last year we've spent more on hand-rogueing, largely because the weather conditions caused a much more protracted germination window. As a result, we've had to pull some fields twice, with rogueing teams going back in 10-14 days after their first visit. Some might see this zero-tolerance approach as disproportionately expensive, but we've used less herbicide as a result, and in my mind it's an investment which will ensure we are able to continue growing clean, profitable crops well into the future.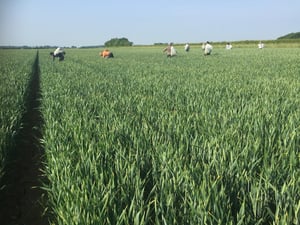 New technologies
New technologies such as weed mapping, robotics and non-chemical weed control are certain to play a big part in future black-grass strategies. This is being driven not only by the ongoing technical revolution which enables farmers to work their land much more accurately, but also by the success of green lobbyists who have been decisive in the revocation of many key chemistries.
The loss of actives is certain to continue, so we as farmers need to look at new ways of improving the way we farm. At Glebe Farm we've been working closely with the Small Robot Company to help them remotely identify black-grass and other weeds in crops, and I look forward to seeing how their next generation of robots fares in terms of using electric shocks instead of chemicals to remove individual weed plants.
This type of work is going to be critical in enabling farmers to treat weeds at the earliest possible opportunity and to target individual weeds efficiently and effectively and with a reduced reliance on chemistry.