With the autumn drilling season in full swing – and already drawing to a close in some parts of the UK – our Regional Agronomy Managers report on how last season's testing conditions have influenced grower decisions going into the new cropping cycle.
Click the link below to scroll down to your region:
Will Nicholls – The North and North Midlands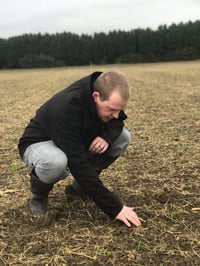 As expected, the oilseed area has fallen again this year, with those crops that have been drilled going in relatively early and in fairly good conditions: the majority of crops are faring well, having avoided any significant flea beetle damage. On the other hand, slug pressure is starting to build as conditions become wetter, so it's worth considering trapping (using traps baited with layers' mash) to determine if/when slug pellets should be applied. Please note that if the application of slug pellets coincides with actively flowing water courses, a ferric phosphate molluscicide (such as Gusto IRON) is the preferred option.
With regards to disease levels, there doesn't appear to be too much of anything about, with only a few reports of phoma despite the recent wet weather. The onset of cooler night-time temperatures may further delay the onset of disease, but it is worth keeping an eye on crops for signs of development over the next few weeks.
An increased area of winter cereals has been sown so far this autumn, with a significant number of growers opting to drill early, especially in areas where black-grass isn't an issue. For these growers, drilling conditions were near enough ideal, whereas those that have decided to delay drilling due to black-grass concerns are now having to wait for soils to dry out again. That said, some light cultivations, and the wet weather which dominated the first half of October, have brought out the early flushes of black-grass thereby enabling glyphosate to be used to good effect. Overall there isn't really any panic to get these fields drilled, but there are many growers out there who have got their fingers crossed that we get a good spell of favourable weather between now and mid-November.
Those cereals that have been drilled are growing away well with pre-emergence herbicides doing an effective job of controlling weeds. The main issue appears to be volunteers from this year's harvest: volunteer oats and barley are proving particularly troublesome in wheats, with Topik (clodinafop-propargyl) proving to be a popular weed control option where oats are the main focus.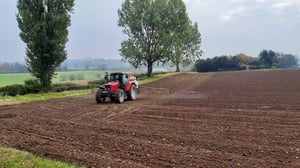 Hurricane as an EAMU being applied to naked oats
For those crops still to be established, a well-timed pre-emergence herbicide application comprising multiple actives will be critical: in black-grass situations flufenacet will be the base of programmes and should be combined with actives such as (amongst others) diflufenican, pendimethalin and prosulfocarb to provide robust control. Where broad-leaved weeds are an issue, it is worth considering Tower (DFF+PDM+CTU) as this provides good levels of control across a range of targets including annual meadow grass.
Matthew Martin – The South and South Midlands
Growers throughout the South and South Midlands have opted for the traditional range of autumn crops this year with the final selection of winter cereals, oilseeds and pulses varying according to geography, soil type, rotation and the effects of 2019-2020 season: many of the growers who were forced to drill spring crops have subsequently increased their winter cereal acreage to bring them back in line with their intended rotations
The oilseed rape area has fallen severely this year with some growers electing not to grow it at all due to the damage caused by high cabbage stem flea beetle pressure in the previous season. Others have opted to stick with it for another year, albeit on a reduced scale, with those crops that were established early (late July) currently at 8+ leaves: discussions are therefore focused on the use of PGRs and the potential for bringing sheep in to graze crops down before winter.
Fortunately, CSFB damage has – on the whole – not been anywhere near as severe as last season and where it has, autumn rains have enabled crops to grow away from this. Conversely, slug pressure was practically non-existent until the recent rains set in.
I've heard reports suggesting as much as 12,000 hectares of linseed has been drilled this autumn: this is a notable increase compared to previous seasons and is somewhat unexpected given the reticence of some advisers and growers who have had issues with harvesting difficulties in the past.
What's less surprising is that many growers have opted to bring their cereal drilling forward into September. This will undoubtedly compromise black-grass control in some areas, but it is an understandable tactic based on ongoing concerns around prolonged wet weather. Actual drilling dates have varied significantly from farm to farm, with some units completely planted up whilst others have yet to start.
One other effect being felt as a result of last year's poor harvest results is a reluctance amongst some growers to commit to a full crop protection programme, with many considering a reduction in herbicide treatments. Again, the need to save money is understandable, but for those areas affected by black-grass and ryegrass, there really is no option other than to maintain robust levels of protection. The same is true in areas where strong winds during the harvest caused ripening seed to be shed resulting in significant volunteer populations.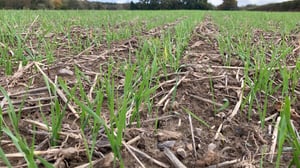 Wheat at GS 11-14 with volunteer oats and frit fly
On a more positive note, disease pressures have thus far remained low. However, if the second half of October turns out to be as wet as the first half of the month, some septoria is inevitable. For oilseed rape crops the biggest problem to date has been the appearance of some phoma, but this has only been of any concern in later drilled, smaller crops.
Chris Stockdale – East Anglia and the South East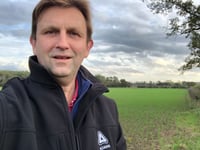 After a very average harvest, most growers in the Eastern counties couldn't wait to put the 2019/20 season behind them. Despite the difficulties associate with oilseed rape, some farmers have decided to persist and are giving the crop another 'go', with August's ideal conditions and some subsequent moisture ensuring crops have generally got off to a good start. Moderate CSFB damage has been an issue for some, with migration seemingly starting around the August bank holiday weekend, but those crops which were at or beyond the 3-4 true leaf stage have withstood the test relatively unscathed.
Many farmers have used companion crops such as fenugreek, buckwheat and berseem clover mixtures to aid OSR establishment, but many have ditched OSR for good, with winter linseed one potential alternative.
In terms of OSR weed control, there has been a definite reluctance to spend on pre-emergence herbicide applications, although growers are reporting good volunteer control with Falcon (propaquizafop). For those still considering how to proceed, residual herbicides such as Crawler (carbetamide) and Cohort (propyzamide) will benefit from the available soil moisture.
The key focus in terms of cereals is getting winter wheat crops in and away, with 'cleaner' varieties such as Extase proving popular. The majority of September was dry with some of the region's farmers taking the opportunity to drill cereals into 'non blackgrass' land towards the middle of the month. Heavy rain – particularly in Norfolk – on the 24th and 25th September marked the end of this dry spell, with significant rainfall falling most days until mid-October which resulted in limited field work being done for three or more weeks.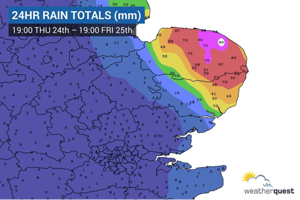 Rainfall 24th - 25th September 2020
Overall approximately 30-50% of cereals were drilled in September, with some of these crops already reaching Tsum for aphicide applications. It is likely that the earliest drilled crops will need multiple applications of an insecticide to cover the extended season prior to winter although the wet ground conditions are making it tricky to get these applied at present.
On land which hasn't yet been drilled, some black-grass has started to emerge and will be sprayed off (weather permitting) with glyphosate prior to the remainder of the autumn cereals hopefully being drilled between now and early November.
Concern regarding slug numbers is very much on the rise at the moment, particularly following OSR and beans where crops have been drilled into cobbled seedbeds. With growers needing to make every seed count, particularly in later drilled drops, I suspect more slug pelleting will be needed: fortunately ADAMA's Gusto IRON (ferric phosphate) pellets are now available, as are our Gusto 3 (metaldehyde) pellets.
Elsewhere, sugar beet lifting has started: whilst it's still early days, first impressions are that sugar levels are a little disappointing, but we live in hope!