Jul 23, 2021 9:26:34 AM - by Adama
6 min
2021 - From the regions… a pre-harvest update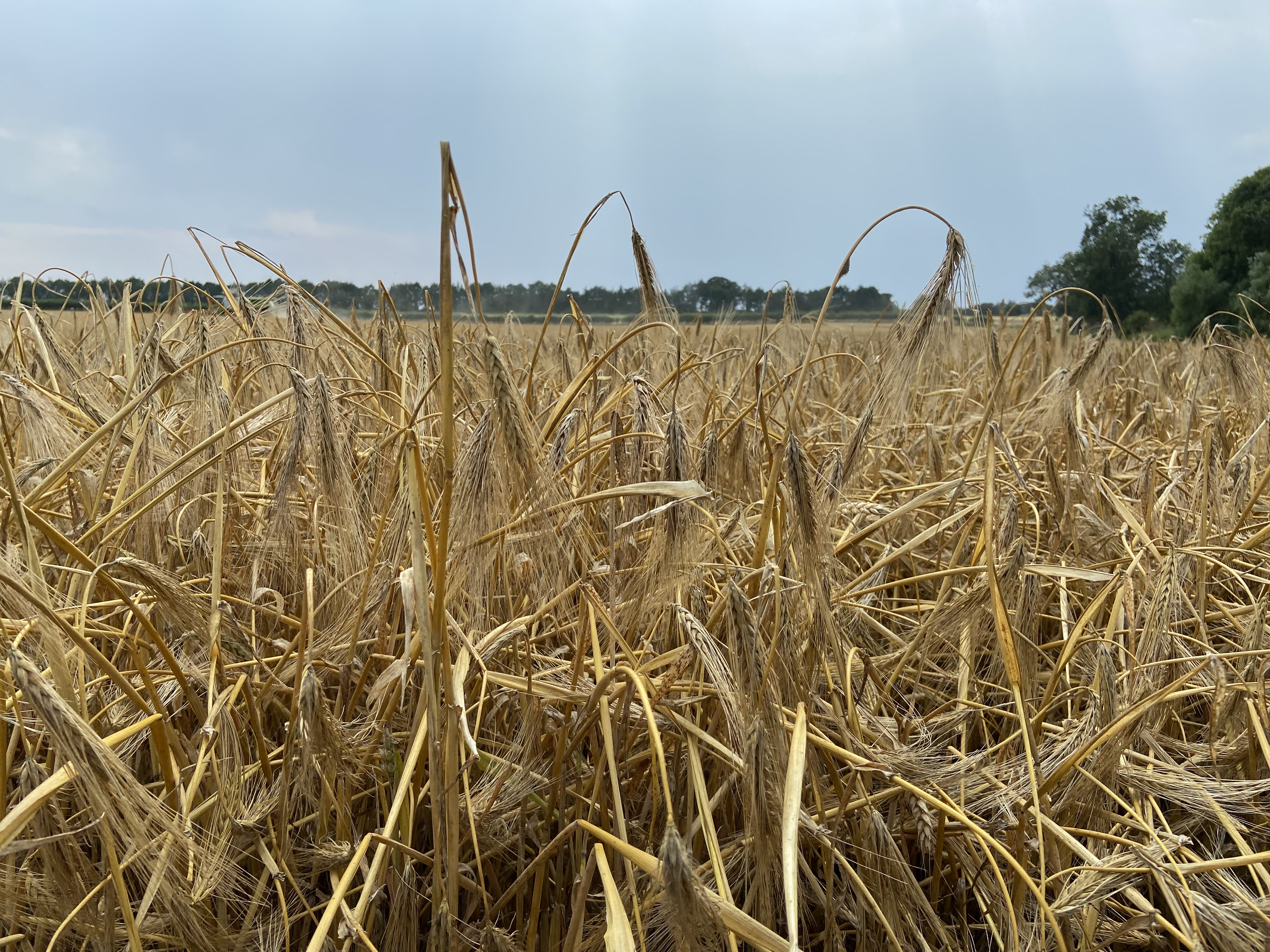 In this week's blog we take another tour around the country with our Regional Agronomy Managers to find out how crops are faring in the final run up to harvest and to highlight some of the lessons learned during the 2020-21 cropping cycle.
Regular readers will notice we've got a couple of new team members: with Chris Stockdale and Matthew Martin all moving into commercial roles and Will Nicholls now heading up the Regional Agronomy Team, we've recruited Holly Pratt and Jonny Oosthuizen as Regional Agronomy Managers for the East and Southwest Respectively.
ADAMA:
Holly and Jonny, can you introduce yourselves and tell us a bit about your careers to date.
Jonny Oosthuizen: Hello! I've spent the last five and a half years working between Dorset, Wiltshire and Hampshire as a BASIS & FACTS qualified agronomist for Bartholomews Agri Food Ltd. I have now joined ADAMA as the Regional Agronomy Manager (RAM) for the Southwest region and I'm looking forward to meeting the growers and advisors across my region and learning more about their thoughts on ADAMA's product range.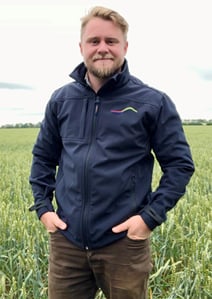 Jonny Oosthuizen
Holly Pratt: I've joined ADAMA from Eurofins Agroscience where, for the last five years, I worked as a trials agronomist at the company's south eastern office. Prior to this I worked for Eurofins as a trials agronomist in the north east, a role which I held for two years as part of the company's graduate recruitment scheme. I've joined ADAMA as Regional Agronomy Manager for East Anglia, Cambridgeshire, Bedfordshire, Buckinghamshire, Hertfordshire, and into Kent and East Sussex. I'm looking forward to working with agronomists and growers in my region and providing them with the necessary technical support to enable then to get the best from ADAMA's portfolio of crop protection products.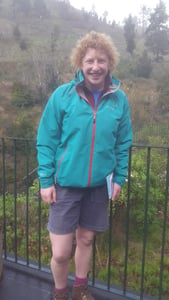 Holly Pratt
ADAMA:
Has harvest started in your region? If so, how are things progressing, how are crops looking and what are your yield predictions?
Will: Harvest isn't far away in the North, but I'm yet to see anyone cutting just yet. Winter barley in my locality looks no more than a week of good weather away from harvest, with some potentially being ready within the next few days. Unfortunately, some crops, particularly on exposed higher ground, have been damaged by recent heavy downpours, with flattened sections appearing between the tramlines. Overall though, the majority of crops in my region are showing good potential and we could see some decent yields.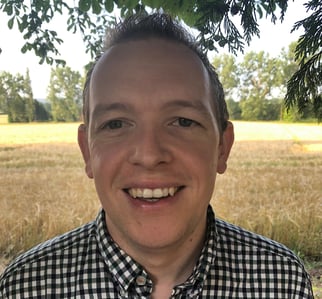 William Nicholls
Jonny: I haven't personally witnessed any combines rolling as yet, but there are some crops looking very close to being ready, so it won't be long until harvest gets underway. In many cases across the region, rainfall arrived during the season at just the right time to keep plants growing well, resulting in what will hopefully turn out to be high yielding crops.
Holly: By the time you read this the first few combines will have started to roll through barley crops. Unfortunately, we've seen quite a lot of lodging in barley crops, even in those treated with a robust PGR program. Wheat harvest is still several weeks away, with the cooler, duller weather at the start of the month causing some minor concerns over slow rates of crop ripening. The better weather and hot spell in recent weeks has got things moving again, but I'm getting regular reports of brown rust being seen in susceptible varieties. Septoria has also been on the move through crops over the past few weeks.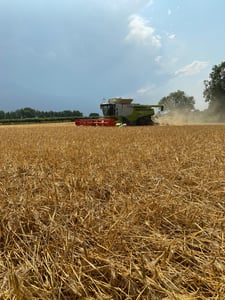 Combining in the East
ADAMA:
What has the 2020-21 growing cycle taught you and the growers in your region in terms of disease control?
Will: The over-riding lesson has been not to be too complacent in terms of disease control: growers need to find a sensible balance between programme cost, efficacy of product and resistance management. The 2020-21 season has tested this more so than ever, with low disease pressure early in the season tempting many growers to pare their early season fungicide programmes back. This ultimately led to higher spend around T2 when rainfall brought with it higher disease pressure.
We've also learned that it is essential to use a multisite fungicide such as folpet in combination with single site chemistry at each key spray timing, not only to reduce the disease pressure on crops later in the year, but also to protect the more vulnerable chemistries from a rapid build-up in resistance.
Jonny: It's a similar story in my region: we saw a number of growers opting to pull back some planned fungicides treatments. In hindsight this didn't prove to be the best strategy, especially as the late spring and early summer rains increased disease pressure in many areas, with some growers subsequently finding themselves on the backfoot.
Holly: The variability in weather patterns and unpredictable conditions from one season to the next means growers need to be constantly mindful of where they are targeting inputs and resources: it can be very tempting to withhold inputs, but this can be to the detriment of crop performance later in the season.
ADAMA:
What has the 2020-21 growing cycle taught you and the growers in your region in terms of weed control
Will: As always, the weather has played a big role to play in weed control. As a result of the wet spell a couple of months ago, we have seen some late germinating grassweeds which established towards the end of spring starting to rise above crop canopies in recent weeks. In my region, ryegrasses, blackgrass and wild oats have all appeared slightly later than expected and there seems to be a resurgence of brome beyond the usual field margins.
The use of a variety of herbicide active ingredients in a programmed approach has given the best results against difficult to control grass weeds, with pre- and early post-emergence combinations of flufenacet + diflufenican + pendimethalin as well as other grass weed actives (such as prosulfocarb or tri-allate) providing a solid foundation to weed control strategies. This has subsequently paved the way for later applications of Topik (clodinafop-propargyl) to take out the remaining, later emerging grass weeds.
Jonny: The standout message for me this year has been to take weed control application opportunities as and when they arise in order to minimise the impact of any late-season rainfall events which may initiate further weed germination outside of the typical herbicide timings. This year's most effective weed control strategies were enjoyed by those growers who seized the opportunity to spray as soon as conditions allowed.
Holly: As with fungicide strategies, the variable weather patterns that have made recent seasons such a lottery means it's important to take the opportunity to apply herbicides as and when you can. It's also critical that growers use a range of active ingredients and product combinations to provide effective control though a range of weather conditions.
ADAMA:
What has the 2020-21 growing cycle taught you and the growers in your region in terms of slug control
Will: The wet weather in April and May coincided perfectly with the slug breeding season which means there is a much higher potential for slug pressure this autumn. It's therefore worth monitoring post-harvest stubbles for any signs of slug activity prior to sowing next year's crops to gauge the risk and establish if/when slug pellets should be applied.
Jonny: Slugs have been problematic in a number of situations, in particular where rotations, cultivations and seedbeds have all aligned to increase the survival rate and breeding potential of existing slug populations. Gusto IRON is a valid replacement to metaldehyde formulations and one which offers consistent performance.
Holly: With the wet weather in the spring boosting slug numbers, accurate monitoring and slug trapping will be vital this autumn, especially if the establishment of new crops coincides with another period of damp conditions.
ADAMA:
How are growers in your region preparing for the new cropping year? Are they intending to do anything radically different in terms of rotation, cultivation technique, crop protection or drilling dates?
Will: With such variable weather conditions year after year, I'm not sure there is such a thing as 'the norm' anymore, so it is about being savvy to the potential challenges ahead. IPM (Integrated Pest Management) will continue to play an important role in decision making going forwards, with variation in cultivation technique, drilling dates and varietal choice all part of the equation when it comes to unpicking the specific challenges that each farming unit faces. When it comes to pesticide applications, timing also plays a vital role and I think we will see more preventative fungicide sprays and earlier herbicide applications being made in order to avoid the potential for late season pressure once again next year.
Jonny: Growers are more in-tune than ever when it comes to understanding how best to tailor their management approach to their specific soil types and farming systems. As a result, I'm sure we'll see a diverse mix of cultivation strategies, drilling dates and rotations being used, but the underlying sentiment will be to establish crops in good seedbeds with minimal weed burden allowing maximum opportunity to get the crop away and growing well.
Holly: I get the feeling that the majority of growers and agronomists in my region are waiting to see what this year's harvest brings before they commit to a firm plan for the new cropping cycle.
ADAMA:
What the one piece of advice you'd offer ahead of the new season?
Will: Given the year we've just gone through I would say the key lesson is to monitor stubbles prior to planting: the late emergence of grassweeds means there is a likelihood of higher seed return, so it's worth noting where the problem areas are and utilising stale seedbeds where applicable. Monitoring slug numbers is also essential given the potential risk especially where oilseed rape is to follow. The damage: risk threshold is one slug per trap in cereal stubbles preceding oilseed rape, which may have a bearing on cultivation choice in addition to other IMP approaches.
Jonny: Attention to detail is key to optimising efficiencies in everything arable, as is the ability and confidence to take opportunities as and when they arise.
Holly: Because the weather this spring was perfect for the multiplication of slug populations, growers should be extra vigilant when it comes to monitoring cereal stubbles for slug activity. As soon as threshold is met, use a good quality ferric phosphate based molluscicide such as Gusto IRON to keep populations in check.