Aug 3, 2021 2:03:25 PM - by Adama
3 min
2021 - Farmer Focus: weed management strategies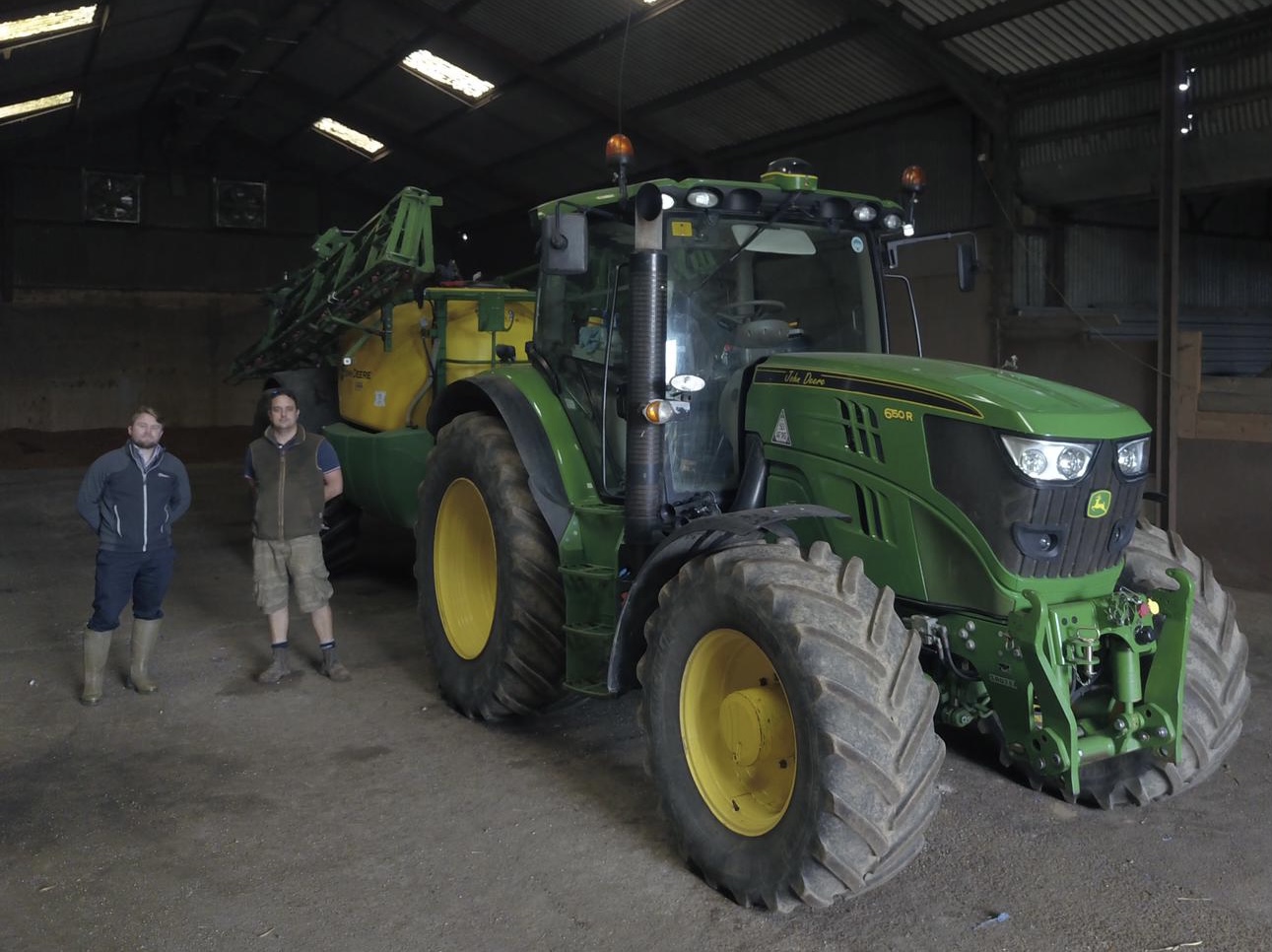 In this week's blog Jonny Oosthuizen, our Regional Agronomy Manager in the South West, takes a trip to Manor Farm in Hampshire to talk to Tim Rook about his approach to weed control.
Jonny Oosthuizen:

Tim, can you provide a brief overview of your farming system and the crops you're growing in 2022?

Tim Rook: I'm the third generation of my family to farm at Manor Farm near Clanfield. We're mainly arable, with some outlying grassland and land put to a variety of environmental schemes. Our cropping area extends to approximately 360 hectares (890 acres) which is split between spring barley, winter wheat, winter oats, spring beans and fallow under a water stewardship scheme.

Our soils are predominantly chalky with lots of flints which, while being easy to get on to work, are tough on tyres and wearing parts.

We've focused on min-till over the past 8-9 years, using contractors to do all our cultivations, drilling and combining. Every now and then we have to revert to the plough for some 'fire brigade' cultivations to counteract wetter autumns and we're constantly looking at alternative min-till and direct drilling strategies because you're never too old to learn.

Our rotation has historically followed a pattern of first wheat, second wheat, spring barley and winter oilseed rape, but more recently we've widened the rotation by replacing the rape with winter oats followed by spring beans.

We haven't grown any oilseed rape for the past three years as a result of the number of insecticide passes needed to prevent crops from failing, but we are looking to put some back into the rotation this autumn to see if the situation has improved at all.
JO: With that rotation in mind, what are the key weeds for you to control?
TR: Like so many farmers, black-grass can be an issue for us, but we're confident that the control measures we've put in place are robust enough to enable us to stay on top of the problem.
Wild oats can and do appear from time to time, but overall don't present too significant a threat. We also get some brome and cleavers which try to make their way into crops from the headlands, but so far, we're also managing to keep on top of things in that regard.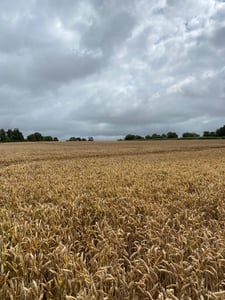 Effective weed control is achieved through a combination of cultural tactics and well-timed herbicide applications.
JO: In a typical year, how much do each of the weeds you've mentioned impact your yields?
TR: The impact on yield as a direct result of weed pressure is fairly minimal as we use a strong and effective programme of herbicides. That said, there have been times when we've opted to spray three metres off the headlands with glyphosate to prevent any additional ingress of brome which obviously affects overall yields.
JO: What are your current weed control tactics?
TR: We control black-grass by entering our worst affected fields into a 'fallow period' which we employ with the support of our local water company, Portsmouth Water: we establish a 'fallow mix' by the end of September and spray this off in April to keep on top of black-grass populations. In the past we used to hand rogue quite intensively, but a good rogueing team is harder to put together nowadays, and I don't fancy doing it all by myself. We've also developed a 'muck for straw' deal with a local dairy farmer, and we clamp that muck for a year before spreading it on our fields to minimise weed populations. We're also very strict in terms of machinery hygiene as there's nothing more effective at spreading weed seeds than a dirty combine.
JO: In addition to cultural control tactics, which herbicide active ingredients do you use?
TR: We use a pre-emergence treatment of diflufenican plus flufenacet to protect our wheat crops and add to that some extra prosulfocarb. We use a similar mix on our barley crops or in some cases partner flufenacet with pendimethalin.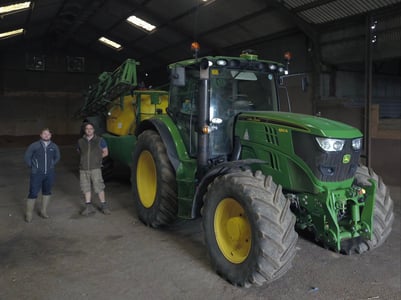 Jonny Oosthuizen (left) and Tim Rook discussing weed control tactics and the importance of well-timed spray applications at Manor Farm in Hampshire.
JO: How effective are these actives against the weeds you're targeting?
TR: As with any crop protection programme, the timing of applications is critical and for us the use of pre-emergence treatments has been key. I strongly believe that if you miss a patch of weeds at the pre-emergence timing it will haunt you for the rest of the season. Last year was a prime example of that: I didn't know it at the time, but a nozzle which was hidden by the spray tank became blocked when we were applying pre-em herbicides. I only realised what had happened later in the season when a line of poppies appeared in every tramline in that field. Thankfully the rest of the field was OK which, in my mind, proves that if applied properly, residual herbicides give crops the best start and the best opportunity to maximise their full potential.
JO: It's good to hear your herbicide strategy is giving good results. How do you choose which active ingredients to use and at what rate and timing?
TR: I work with an independent agronomist who I talk to for advice and together we plan the strategy for the year ahead. We prefer to keep product rates at robust, effective levels to make sure we're getting the best from the chemistry whilst also keeping an eye on costs.
I do all the spraying myself as I feel its important to be dynamic with pesticide applications in order to optimise their efficacy. For example, I prefer to apply insecticides at night when bees are least active, using boom lights to keep an eye on the spray pattern.
To maximise the efficacy of pre-emergence herbicides I use 200 litres water volume and flat fan nozzles to get the best coverage. Meanwhile, fungicide applications are mostly done with air-inclusion low-drift nozzles. Timing is key for pesticide applications, so I try to prioritise this job above other activities as the growing season progresses.