Aug 25, 2017 8:59:00 AM - by David Roberts - Herbicide Technical Specialist
7 min
2017 - Enhancing wheat yields – an interview with the growers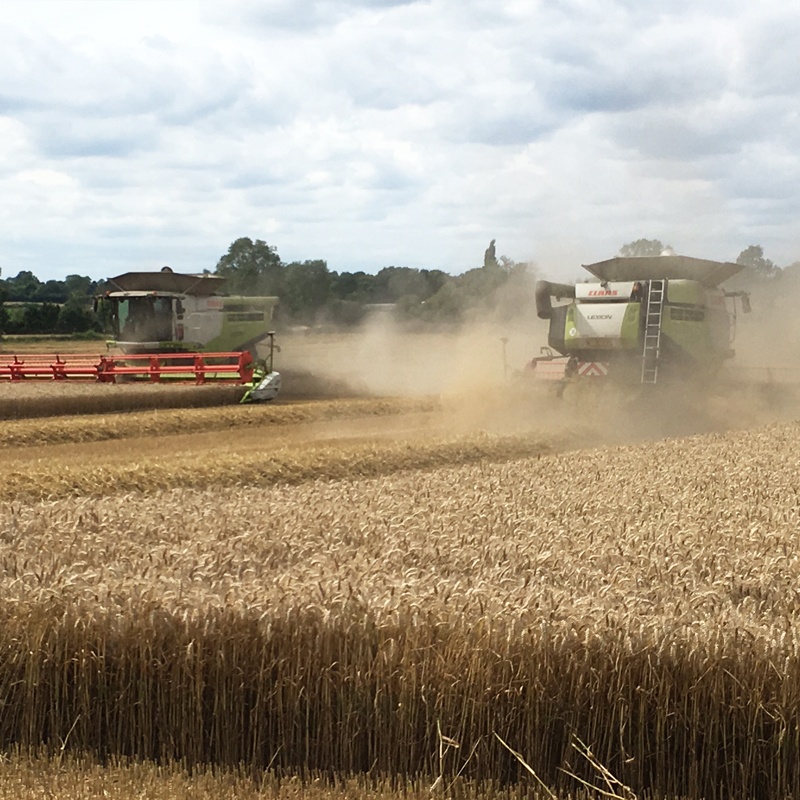 In this week's hub update, we interview three of Adama's sponsored YEN growers to find out how their wheat crops have performed throughout the season and to discuss the lessons learned.
Tom Paybody farms with his brother, parents and uncle at Maidwell in Northamptonshire where they manage 1,400 hectares under a variety of contract farming arrangements. As well as growing cereal crops including winter wheat, oilseed rape, spring beans and spring barley, the Paybodys also lamb 800 ewes and provide a contract shepherding service for a neighbouring estate.
Iain Robertson is Assistant Arable Manager for David Foot Ltd in Dorset. The mixed farming business consists of two farms totalling 1,600 hectares. A herd of 970 dairy cows is supported by a rotation of Wheat – OSR – Maize – Spring Barley – Winter Barley – Beans, grown predominantly to feed the expanding dairy enterprise.
Ian Holmes is the in-house agronomist for Strawson Limited. The business farms around 5,000 acres of arable land in Nottinghamshire, alongside a significant root vegetable and potato growing operation. The business's arable rotation on heavier land is based around winter wheat, oilseed rape, spring barley & spring wheat, with smaller areas of winter barley and hybrid rye.
ADAMA: How has the 2016-17 season been for your wheat crops and what were your main challenges?
TP: Thankfully the dry spring wasn't too detrimental to our harvest: the majority of our land is heavy, so our winter crops didn't suffer, even in April when we received only 9mm rain for the month. On the other hand, our spring barley was slow to get going: it was drilled into good moisture, but this soon dried out leaving us with many unevenly maturing crops. We don't know for sure yet, but we're not hopeful of achieving malting spec with these crops due to their unevenness.
More recently, the catchy weather has made harvesting tricky, but we've managed to make similar progress to previous years. Our milling wheats have been harvested at slightly higher moistures than we would ideally like, but we were able to cut nearly all our winter barley and oilseed rape in dry conditions.
IR: The biggest factor affecting this year's crop was the weather. It seemed as though the wrong weather always came at the wrong time. Fortunately for us, this year's YEN field was on some heavy clay, so it held on to a decent amount of moisture throughout the dry spring. A 'late-as-we-dare' application of cow slurry also helped to see the crop through the drought relatively unscathed.
IH: This season has been quite challenging with crops having to cope with a range of extreme conditions. A wet period prior to Christmas reduced rooting ability, especially for later drilled crops. This was followed by spring drought conditions in March, April and May which reducing tillering and caused a greater amount of tiller loss than in recent years. Very hot temperatures in June then reduced the effective grain fill period, with crops on light land burning up. The season was then rounded off with a catchy harvest which was hampered by significant rainfall throughout July and August. Our wheats also had notable rainfall around flowering which put pressure on T3 ear spray timings and potential fusarium control.
ADAMA: How have your YEN crops performed in terms of yield?
TP: Our Skyfall has yielded approx. 0.5t/ha more than last year, and as such was more in line with our longer-term averages. Our Crusoe, Graham and KWS Lili in particular seem to be yielding very well and are up by as much as 1t/ha compared to last year. Our YEN block of Crusoe was a whole field of 8.41ha which has yielded 11.73t/ha. That's almost 0.5t/ha more than the average yield of the entire 46ha block.
IR: Our YEN field has performed much better than last year's entry: we've achieved 11.8t/ha this year compared to 10.0t/ha in 2016. That's a huge improvement and undoubtedly down to a variety of factors.
IH: This year's testing weather conditions have had a significant effect on first and second wheats, especially those grown on light land. The long dry spell in the spring reduced the tillering capability of light land wheats, particularly those drilled later, and we have seen below average yields for crops in this scenario. Earlier drilled first wheats, and those crops on more bodied land, were more able to cope with the dry weather and have taken advantage of better light levels compared to 2016. As a result, these fields have produced good yields and have performed above our long-term farm average. This year's YEN crop of Reflection was on good sandy clay loam land and has coped well with the season challenges. It has returned a yield of 10.92t/ha (4.42t/acre) which is above our first wheat average for similar soils which returned 9.9t/ha (4.01t/acre).
ADAMA: How have this year's crops compared in terms of quality?
TP: Our milling wheats have retained their Hagberg by the skin of their teeth. Skyfall appears to have lost its quality more quickly than Crusoe which would be expected as it is an earlier maturing variety. We were fortunate that when most of the rain came in the run up to harvest, our quality wheats were not quite fully matured. There appears to be no difference in quality between our YEN and non-YEN crops, but we'll wait to see what the final ADAS analysis shows before making any conclusive judgements.
IH: Wheat quality has also held up well, even crops on sand land producing acceptable specific weights. This suggests that the pinched grains in evidence pre-harvest were perhaps too small to make it into the final sample. This explains some of the yield difference between light and heavier land. Milling wheat quality has been more difficult to maintain in the changeable late season weather, with Hagbergs put under particular pressure. Our YEN Reflection has returned specific weights around 74-75kg/hl which has been pleasing.
ADAMA: What went well with your YEN crop?
TP: Adama kindly agreed to supply enough chemical to enable us to integrate the YEN block in with the rest of our growing programme. This meant we could run a full sprayer load which was an enormous help with ensuring that, whilst using a slightly enhanced crop protection programme, there were no unnecessary hold ups with the sprayer doing part-loads when time was against us.
IR: We took plant tissue samples throughout the growing season which helped us to tailor inputs to keep the crop healthy. We also adopted a split application strategy to give the crop better protection from key diseases such as septoria: we alternated between half timing applications of folpet and CTL to ensure the new growth was always protected.
IH: Our YEN fungicide programme cost more than our standard programme on the same variety, but has produced a higher yield. We had intended to apply a later T4 type application with a strobilurin fungicide, but unfortunately workload and weather conditions prevented this from being applied. We also part-treated the YEN field with Expert Grow, a bio-stimulant product being developed by Adama. Visual differences have been difficult to spot, but samples from both treated and untreated have been taken both as whole plants and as grain to see if any differences have been achieved.
ADAMA: What would you do differently in terms of growing a YEN crop?
TP: We're keen to investigate the merits of bio-stimulation products and would like to try some part-field and/or whole-field trials next spring.
IR: We tried liquid fertiliser for the first time this year, and with good success. We'll be increasing this area next year as it allows us to deliver a more accurate nutritional programme. We're already thinking ahead to next year's YEN crop and are looking to choose a south facing field to absorb as much daylight as possible. It'll be interesting to see what impact that has on overall yields and crop quality.
IH: I would still like to make more out of the late season effects of fungicides, particularly strobilurins, so will attempt to make this application again next year. I also think we will try and make more out of getting biostimulants and micro nutrition working for us.
ADAMA: Have you got any advice or comments in terms of cultivations, seedbed conditions and slug pressure for crops going into the ground now?
TP: We've already started drilling rape, with our first 85ha drilled and rolled. 40ha of this was drilled following winter barley which usually leaves a fluffier seedbed and therefore reduces slug pressure. We apply slug pellets with the rolls, and, having had a decent amount of rain in the middle week of August, there is already quite a bit of slug pressure in heavier parts of the fields.
IR: This year, much to the frustration of our harvest team and baling gang, soil moisture levels are making life easier for the cultivation team who are already well on with producing a nice, friable seed bed ready for drilling. They're creating well-conditioned stale seed beds and have drilled 45ha of stubble turnips which have established well without the need for slug pellets or flea beetle sprays.
IH: As we have just had more August rainfall, slug pressure is expected to be high, with numbers visible on both OSR and cereal stubbles, particularly where a higher amount of crop residue exists. Early cultivations behind the combine are helping, but new stewardship guidelines for metaldehyde make slug pellet use more complicated. We are focusing on applying ferric phosphate to the outside of field headlands, with metaldehyde still the active ingredient of choice for the middle of fields for fast knockdown of slugs, particularly in early establishment of oilseed rape. Cultivations are continuing as close as possible behind the combines to aim for opportunities for blackgrass emergence and spraying off with glyphosate prior to following crop establishment. Black-grass dormancy appears to be lower this year with significant amounts showing in cultivated OSR stubbles already. After an early harvest, the temptation to drill winter cereals too early must be avoided at all costs if the ongoing blackgrass battle is to be anywhere near successful.
ADAMA: Are there any other insights or experiences you would like to share?
TP: We really enjoy being part of the Adama YEN group and it was great to host a YEN specific growers' meeting here in July. We're all spread out across the country with each farm facing their own, different challenges. This geographical spread opened up some useful, honest discussions about what each of us have tried, successfully or otherwise. Hopefully we can all learn from each other and continue to take our yields forwards.
IR: We learned a lot from tissue sampling: in a number of cases the individual plants looked OK, but the samples showed some nutritional deficiencies which we were able to rectify appropriately. Being able to respond to specific nutritional deficiencies quickly and efficiently is a definite benefit, both in terms of crop yield and quality.
IH: The potential removal of Deter seed treatment is a major worry for us, not just in terms of aphid (BYDV) control, but equally, if not more significantly, in terms of repelling slugs and reducing seed hollowing. Virtually all our wheat, barley and rye seed crops are treated with Deter and it is a significant factor in achieving good establishment.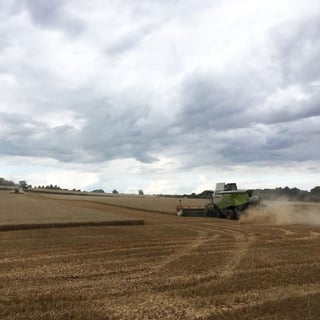 Tom Paybody YEN field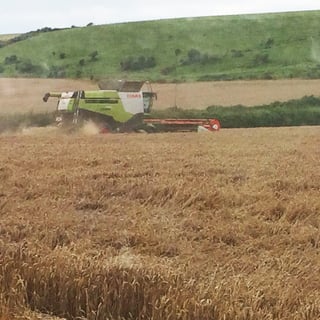 Iain Robertson YEN field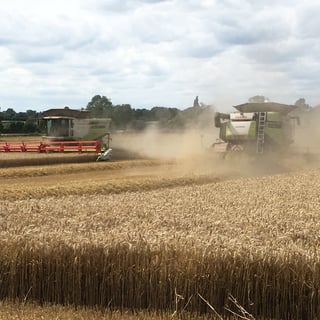 Ian Holmes YEN field