Jun 22, 2017 5:22:45 PM - by David Roberts - Herbicide Technical Specialist
3 min
2017 - Herbicide Resistance: Know your enemy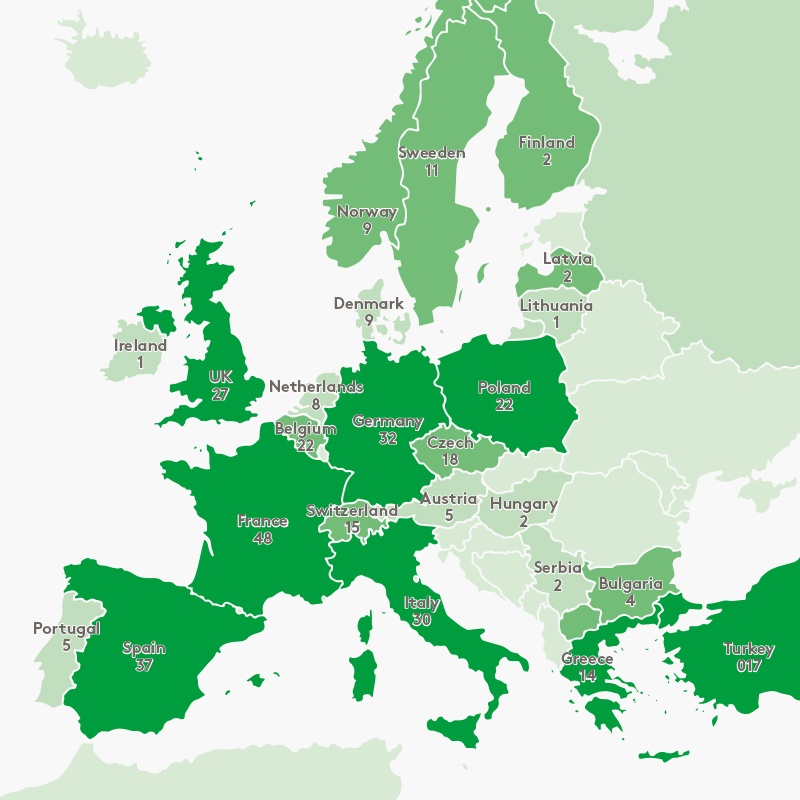 One of the biggest barriers to successful weed management is the growing problem of herbicide resistance, with the development of resistant black-grass being of particular concern, particularly as the range of fully effective active ingredients is limited.
Black-grass resistance first occurred in England in 1982, but occurs across much of Europe where it is a particular problem in the more northern and western countries such as France, Belgium, the Netherlands, and Germany. It is also emerging to some extent in Scandinavia and Poland.
Resistance in Europe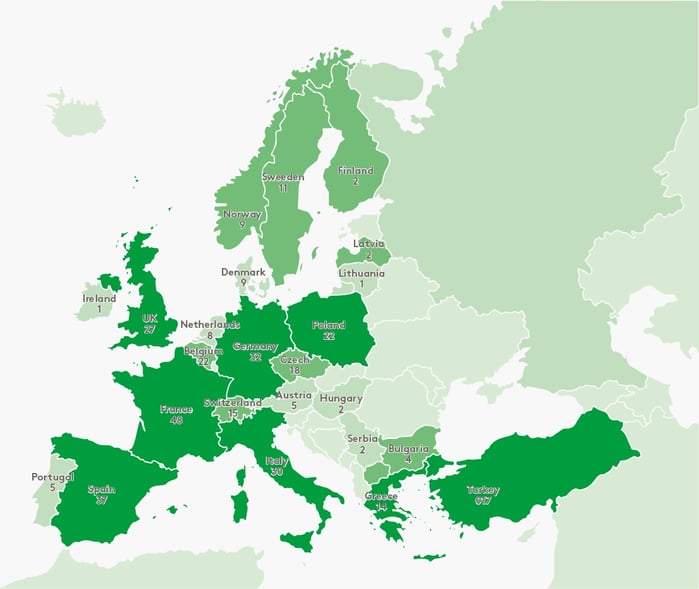 Number of 'unique' herbicide-resistant weeds by country in Europe. If a weed is classified as having resistance to two seprate herbicide modes of action, that equals two 'unique' weeds, etc.
Image taken from www.weedscience.org May 2017
The situation is at its worst
The most widespread resistance is of the enhanced metabolism and target site types to Acetyl CoA Carboxylase inhibitor herbicides (ACCase). This situation is at its worst in England where herbicide resistant blackgrass has been confirmed on over 20,000 farms. Testing has also confirmed over 132 cases of resistance to Acetolactate-synthase inhibitor herbicides (ALS) in the UK. Of these ALS-resistant biotypes, eight out of nine were target site resistant. In other European countries ALS resistance is less common and is restricted mainly to heavier soils but is of increasing concern.
Germany reported its first case of resistance to ACCase, PSII inhibitors (ureas and amides) in 1983. By 2007 it was also reporting the problem to ALS inhibitors and long chain fatty acid inhibitors.
France reported ACCase resistance in 1993 and ALS resistance in 2006 with the hardest hit areas in the north of the country. In Denmark, about 30% of the black-grass population is showing resistance to ACCase and ALS chemistry, but the major breakdown is to sulfonylurea. Danish growers face an additional difficulty in combating resistant black-grass in the form of a pesticide tax. Active ingredients which target long chain fatty acid production in the plant are the most effective option for the Danish grower, but a 100% tax is dissuading growers from using this form of chemistry. Instead the more vulnerable ALS-based products are being used in larger quantities because the tax is lower. Researchers are increasingly concerned that this policy will ultimately give rise to even greater resistance levels.
For the wider EU, herbicide resistance to annual broad-leaved weeds is a growing problem. The three-main species are chickweed, poppy and mayweed. France, Germany, Benelux and the UK all have a problem with these three species which are target-site resistant to ALS inhibitors.
Meanwhile Spain, in particular, has a severe problem with herbicide resistance in poppy. In the past five years, growth in resistance to ALS inhibitors has been exponential. The position now is wherever wheat is grown there will be resistant plants among populations.
The problem with weeds
Weeds compete for sunlight, water and nutrients so the main impact is seen in reduced yields. The impact of weed species is measured on a scale known as the 'competitive index'. The index compares what population level of a weed per square metre will result in a 5% reduction in crop yield. Because of its ability to produce tillers, ryegrass needs only five plants/m2 to cause a 5% yield loss.
However, even though black-grass is ranked as less competitive on the index, with 12 plants/m2 needed to result in a 5% yield loss, it is a greater problem. This is because its populations are extremely high. It is not unusual to have in excess of 1,000 black-grass plants/m2, creating a dense carpet of weeds in the autumn.
The natural lifecycle of black-grass is well-suited to our current production pattern, soil types and applied nutrients. Its growing habit of shedding seeds before the crop can be harvested is a major factor in the weed's prevalence.
As each black-grass seed head produces 100 seeds, the soil reservoir is considerable. Control levels of 98% of the population are required to keep pace with the weed threat, but resistance means this figure cannot be achieved with herbicides alone. It is commonplace to get a 25% yield loss where black-grass is present and the cost of a herbicide programme to control it can be as high as £150/ha.
The extent of the problem: counties with herbicide resistant weeds*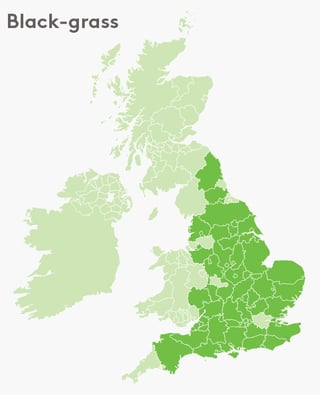 Resistance first found in 1982
More than 20,000 farms affected
35 counties affected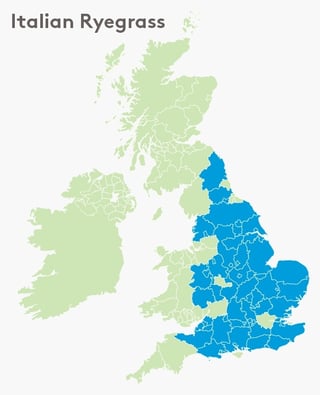 Resistance first found in 1990
More than 475 farms affected
33 counties affected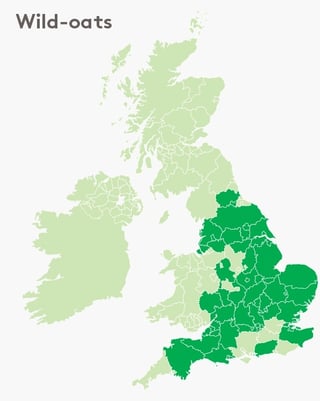 Resistance first found in 1993
More than 250 farms affected
28 counties affected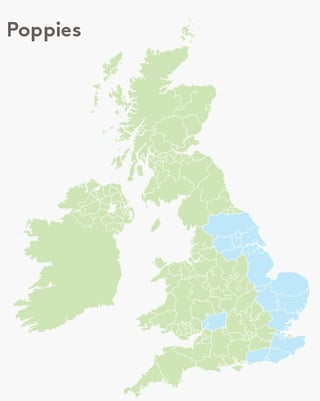 Resistance first found in 2000
More than 70 farms affected
9 counties affected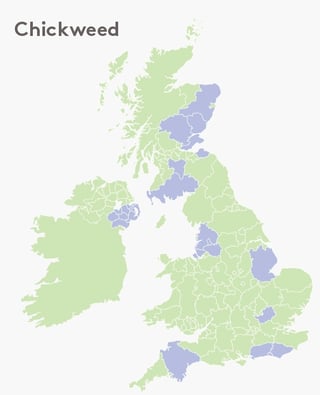 Resistance first found in 2000
More than 50 farms affected
13 counties affected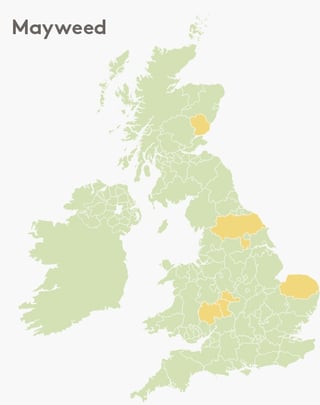 Resistance first found in 2002
More than 12 farms affected
5 counties affected
* Information courtesy of Stephen Moss Consulting and Rothamstead Research. Data accurate to 2016.