Oct 27, 2017 12:09:23 PM - by David Roberts - Herbicide Technical Specialist
3 min
2017 - Looking back: a grower's perspective of the 2017 season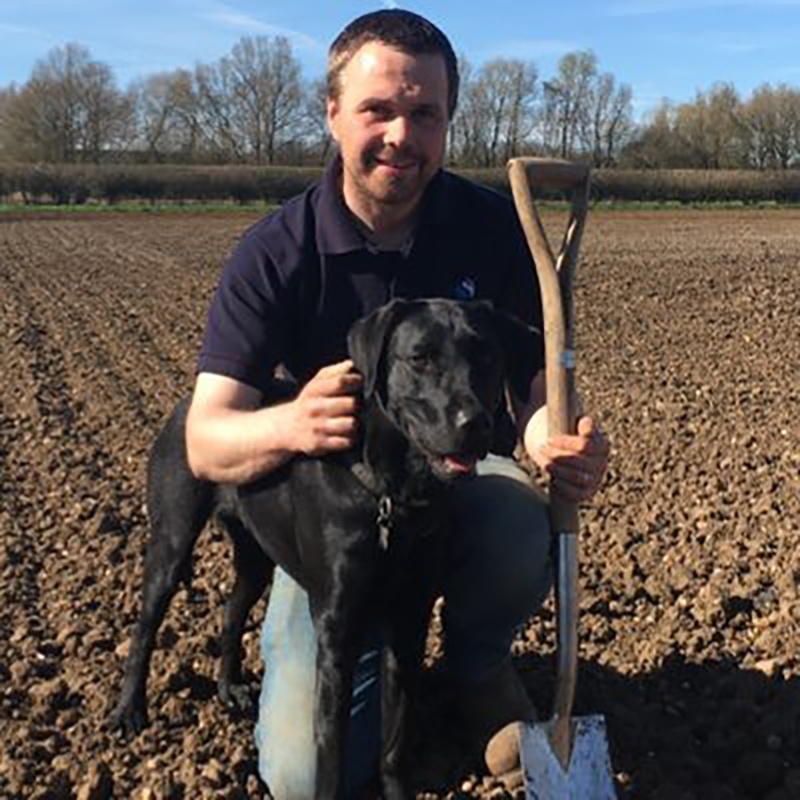 In the final part of this Seedbeds, Stewardship and Slugs Hub, we look back at the 2017 harvest season by asking Ian Holmes, one of Adama's YEN growers, to summarise the challenges he faced throughout the year and the lessons learned for the future.
Ian Holmes is the in-house agronomist for Strawson Limited. The business farms 5,000 acres of arable land in Nottinghamshire and neighbouring counties, alongside a significant vegetable and potato growing operation. The business's arable rotation is based around winter wheat, oilseed rape, spring barley and spring wheat with smaller areas of winter barley and hybrid rye.
Adama: How did the weather affect your cropping programme in 2017?
Ian Holmes: 2017 has certainly thrown up a number and range of weather related challenges! Our soils started the new cropping year in wet condition, before a very dry spring took its toll: crops on lighter land suffered noticeably with fewer viable tillers ultimately having a detrimental effect on yields. Cereal crops grown on our heavier land were less severely affected, largely due to better moisture retention and improved Nitrogen utilisation.
The dry spring also impacted heavily on spring crop establishment, with spring cereals on heavy land emerging anywhere between 7 days and 6 weeks after drilling within the same field!
As always, the balance was re-dressed by a very wet June, July, August and September with an extra four inches of rain across those four months compared to the previous 10-year average.
Despite an earlier than normal start to harvest, the wet summer meant it felt like a difficult and protracted affair as we rarely had more than a couple of consecutive full combining days.
The wet start to autumn also delayed the start of cereal drilling; although we should be grateful for not then having the temptation to drill black-grass land too early! In fact, drilling conditions in recent weeks have been very good, and I'm hopeful that the current damp conditions will help the activity of pre-emergence herbicides which were applied between periods of particularly windy weather.
Adama: What about disease and pest pressures throughout the year?
Ian Holmes: The weather patterns throughout 2017 also had an impact on pest and disease pressure. For our cereal crops, the dry spring conditions meant disease pressures were generally lower, with septoria significantly less troublesome than usual; using varieties with higher resistance ratings also helped us to manage the septoria threat.
We also saw lower than expected pressure from Light Leaf Spot in oilseed rape, whilst we controlled sclerotinia well through the use of applied fungicides.
Some of our oilseed rape crop was affected by clubroot: this is the first time we've been troubled by the disease, but thankfully its impact was limited to land with a very tight previous rotation.
This autumn has seen our highest flea beetle pressure in recent memory and certainly from before the use of neonicotinoid seed treatments. This has meant greater use of insecticide during establishment than I would have liked.
Slugs have also been very active as the wet weather continued into September. For our cereal crops, the use of a combination insecticide and fungicide seed treatment remains key on our heavier land and the upcoming decision on the future of neonicotinoids is a major concern.
Adama: what sort of yields did your 2017 crops deliver, and how do these stack up against what you'd have expected to achieve?
Our OSR oil contents are looking strong, which validates our decision to move to a wider row system and our yields have come in above our recent average which was pleasing.
Our barley was generally disappointing, with winter sown crops below our 5-year average and still struggling to cement a place in the rotation despite better bushel weights than 2016. Spring barley was around the 5-year average and, after a difficult start with establishment affected by the dry spring, the final result should be taken in context. Higher brackling losses in mature crops were also disappointing this year.
Our winter wheat crop was a tale of two soil types; our stronger land yielded above average and budget, whereas crops on lighter land, and particularly those drilled late, performed poorly. Our second wheats have also had a more difficult year, prompting a change of variety for 2018. Spring wheat performance, on the other hand, was very pleasing; after a slow start our spring wheat went on to out-perform spring barley in similar rotational slots.
Adama: What worked well for you in 2017?
Ian Holmes: For our wheat crops, the early use of high rates of liquid nitrogen helped plants to withstand the dry spring conditions. Later drilling of heavier land to reduce black-grass pressure in wheat crops also worked well.
Using wheat varieties with higher disease resistance ratings also appears to be working well, while hybrid OSR varieties drilled at wide row intervals also showed good performance this year.
Ploughing for spring sown crops was also successful, with spring wheat and barley on ploughed land out-yielding the same varieties drilled at similar times on non-ploughed land.
Adama: What didn't work?
Ian Holmes: It wasn't the right season for us to delay drilling on our lighter land as this had a negative impact on rooting, tillering and tiller survival. Our later drilled spring crops also suffered this year with the dry conditions causing delayed emergence.
Adama: What are your plans for the 2018 harvest season and what will you be doing differently?
Ian Holmes: We've ploughed our second wheat land to give the crop a cleaner start. We've also decided to use a new variety to improve the specific weight of our second wheats.
For our spring crops, we're going to aim for an earlier drilling window; this will hopefully ensure our spring wheat and barley crops are more robust which, in turn, will hopefully result in better performance.
Watch this space…
We will soon be launching a new online crop protection hub. Containing the very latest advice for controlling septoria and key weed threats in the spring, the new Adama Precision Crop Protection hub will go live in the new year.