Aug 18, 2017 9:42:00 AM - by David Roberts - Herbicide Technical Specialist
3 min
2017 - OSR WEED CONTROL: should I use a pre- or post-emergence treatment?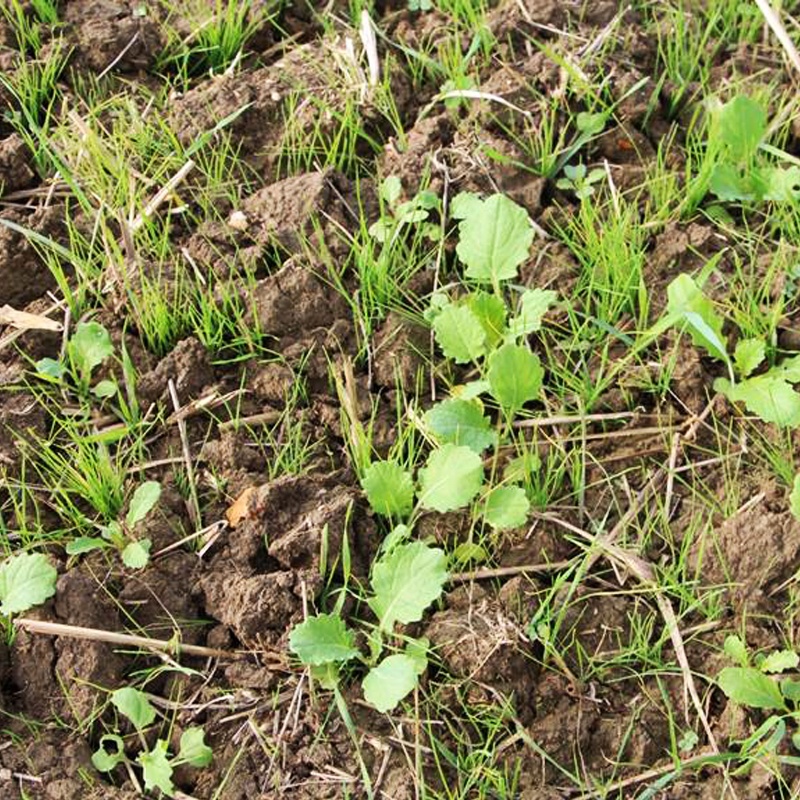 The decision of whether or not to use a pre-emergence weed control treatment on winter oilseed rape (OSR) is often dictated by how much time and resource is available: with many growers electing to drill OSR earlier and earlier, and with human and machinery resources stretched during one of the arable year's busiest periods, there often isn't enough time or resources available to squeeze in an extra passage with the sprayer.
Add to that the risk that the new crop might not establish properly (due to a combination of factors outside the grower's control), and many growers might be tempted to shy away from using a pre-emergence treatment purely on economic grounds.
It is therefore important to understand both the advantages and disadvantages of pre- and post-emergence strategies and to develop an herbicide programme accordingly.
Pre-emergence treatments
Advantages:
Applying a pre-emergence herbicide enables growers to use a non-selective herbicide;
Prevention rather than cure: residual herbicides prevent early weed establishment, thereby avoiding the reliance on curative treatments;
Pre-emergence treatments can be applied at the key grassweed control timing, enabling growers to reduce populations of specific grassweeds including black-grass and Ryegrass;
Early weed control removes competition, enabling the young crop to establish more vigorously;
Reduced environmental risk: applying chemicals to smaller weeds during drier periods enables less active ingredient to be used and reduces the risk of chemicals being leached into watercourses when field drains are running.
Disadvantages:
Crop establishment is not guaranteed;
Applying a pre-emergence treatment reduces the time available for weed emergence and control;
Weed control and AI efficacy may be compromised when applying a pre-emergence treatment to excessively dry or cloddy seed beds.
Post-emergence treatments
Advantages:
Waiting until after the crop has established will give weeds enough time to emerge, thereby allowing for easier identification of the weed species to be targeted;
The grower can treat viable crops thereby mitigating any losses associated with poor establishment;
Post-emergence applications enable growers to control weeds which were not checked by pre-emergence treatments.
Disadvantages
Post-emergence treatments may be too late to offer complete control of large, well-established weeds;
Soils may be too wet to travel when treatments are delayed. There could also be a higher risk of chemical run-off via running field drains.
The established crop can prevent adequate spray coverage of weeds hiding beneath the crop's canopy.
Metazachlor: the pre- or post-emergence option
Sultan is one of the key building blocks for weed control in OSR. With a wide spectrum of activity against grassweeds and a range of broadleaved weeds, it can be used as either a pre- and/or post-emergence option and is a useful starting point for controlling black-grass.
Using Sultan at the pre-emergence stage provides the 'insurance' of getting an herbicide on early if conditions subsequently turn wet. Applying at pre-em also removes weeds early in the crop's lifecycle thereby allowing OSR to establish without competition.
However, growers must be aware of the Metazachlor Matters stewardship scheme and should abide by its recommendations for the safe usage of metazachlor to protect surface water and preserve the ongoing availability of metazachlor(and quinmerac) based herbicides.
Early post-em treatments: controlling black-grass without impacting water
Where OSR has been sown early, there may be a tendency towards favouring post-emergence weed control: simply because harvest, cultivation and drilling workloads prevent the sprayer from applying a pre-em treatment. Unfortunately, this strategy poses an increased risk for water quality as post-emergence treatments are often applied when drains are running in October and November.
To reduce this risk, growers should consider an earlier application of an effective herbicide such as Crawler (600 g/kg carbetamide) which can now be applied from pre-emergence of the crop all the way through to stem elongation or the end of February. Using Crawler at this earlier timing is an effective way of kick-starting black-grass control as it targets the roots of young, shallow-rooted weeds and weakens their resolve to subsequent chemistries.

Post-em treatments: reducing the metazachlor risk
For growers in need of a post-emergence option to use when crops have established well, Adama's new phenmedipham based herbicide, Parish, is an excellent option.
This unique contact herbicide can be applied to OSR when the crop has two true leaves and before nine leaves are unfolded. It should be applied to weeds from cotyledon to two true leaves and can be applied at maximum total and individual doses of 1.1 l/ha, with a seven-day interval between applications.
Parish provides activity against a wide range of broadleaved weeds, notably chickweed, and importantly, is not an ALS-inhibitor. It can be sequenced with later residual herbicides and does not limit following crop options in the event of subsequent crop failure.