Sep 1, 2017 8:40:32 AM - by David Roberts - Herbicide Technical Specialist
2 min
2017 - OSR WEED CONTROL: the importance of controlling volunteer cereals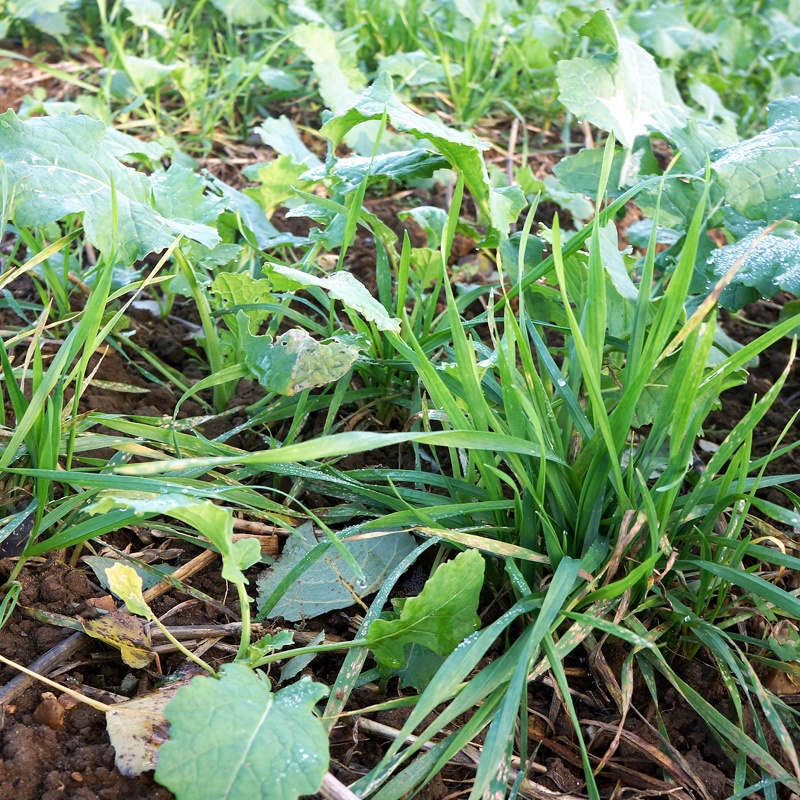 Volunteer cereals are an all too common sight in newly-establishing crops of winter oilseed rape (OSR). They can have a direct negative effect on the OSR by competing for light, nutrients and water, and can also act as a reservoir for cereal diseases and aphids – the green bridge via which pests and diseases transfer from weed to crop.
Competition from volunteer cereals can be mitigated by a number of tactics, the first being to ensure the combine is set up as efficiently as possible to minimise the amount of harvested seed 'going over the back'. In many fields of OSR the highest populations of volunteer cereals are concentrated in swaths directly behind the path taken by the combine. Optimising combine set up can therefore reduce this burden.
The second tactic available is, where possible, to spray off early flushes of volunteers using pre-drilling applications of glyphosate. This isn't always possible in early-drilled crops of OSR, but should be considered when and where the opportunity arises.
Delaying drilling for the sole reason of producing a stale seedbed to control volunteer cereals is probably not justified for a number of reasons:
Later-drilled crops will have a lower yield potential
The younger crop will be more susceptible to irreversible damage caused by cabbage stem flea beetle, slugs and pigeons.
On a plant-by-plant basis, the yield loss caused by volunteer cereals in late-drilled crops is far greater than in early-drilled crops. For example, 10 volunteers/m2 in a crop drilled in September can decrease yield by as much as 100 volunteers/m2 would in a crop established in August.
In-crop herbicide options
Once the OSR crop has emerged, herbicide options are largely based on foliar graminicides with an acetyl CoA carboxylase (ACCase) inhibitor mode of action. These are often commonly referred to as 'fops', 'dims' or 'dens'.
To reduce pressure on herbicide resistance increasing it is important to remember the regulatory position on the use of ACCase inhibitor herbicides:
The maximum number of applications of any one active substance which is an ACCase inhibitor is one per crop
To avoid the build up of resistance, do not apply products containing an ACCase inhibitor herbicide more than twice to any crop
Do not use these products in mixture or sequence with any other products containing the same active ingredient
Applying a second product containing an ACCase inhibitor to a crop will increase the risk of resistance development
Only use a second ACCase inhibitor to control different weeds at a different timing.
Anti-resistance strategies
Until recently, herbicide options for the early control of volunteer cereals have relied heavily on the ACCase mode of action. There is no recorded resistance in volunteer cereals (or black-grass) to the active ingredients carbetamide or propyzamide. However, the timing of application for products containing these actives has traditionally been late autumn and through winter.
After much development work, and some very positive commercial experience, Adama is now recommending the use of Crawler(600 g/kg carbetamide) at much earlier application timings, including pre-emergence and early post-emergence. Crawler is compatible with many foliar graminicides.

Applications of Crawler can still be made through to crop stem elongation or the end of February, with the new, earlier timing offering a very useful alternative to ACCase herbicides when controlling volunteer cereals. Earlier applications also have the added benefit of providing an early start to the black-grass control programme.
Crawler: the effective option for tackling black-grass in OSR
As an early application (including pre-emergence) herbicide, Crawler enables growers to target volunteer cereals with 600 g/kg carbetamide, and helps black-grass control by targeting young, shallow-rooted plants and weakening their resolve to subsequent chemistries. There is no known weed resistance, including black-grass, to the active ingredient of Crawler.