Dec 6, 2019 4:19:29 PM - by David Roberts - Herbicide Technical Specialist
7 min
2019 - Regional Round-Up: Autumn VS. Spring Drilling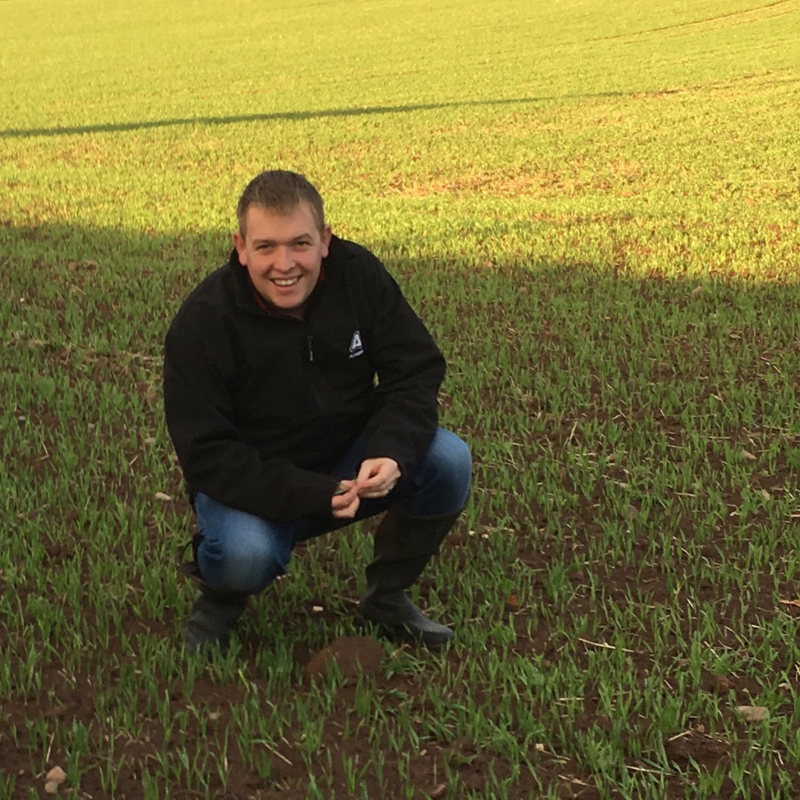 With wet weather and saturated soils continuing to dominate proceedings in large parts of the UK, we talk to each of ADAMA's Regional Agronomy Managers to assess how growers have coped with the challenging conditions and how the weather is likely to influence this season's cropping decisions.
---
East Anglia
Chris Stockdale, Regional Agronomy Manager
While the wet autumn conditions have had a significant impact on field operations throughout large areas of the East, there are some small pockets of land where workloads have been relatively unaffected. For example, on the lighter soils in North Norfolk, the vast majority of winter wheat and winter barley has been drilled and sprayed on time and in relatively favourable conditions.
Meanwhile, in areas dominated by heavier land, only about 65-70% of wheat and slightly more barley has been drilled, with the heaviest clays yet to be touched. The current spell of unsettled weather and the forecast for more rain to follow probably means that any hope for this land to be drilled with winter crops has now been lost. But despite this, it's not too late for all hope to be lost, with some drills seen working lighter land over the last few days, and potentially still able to work through to late January if conditions allow.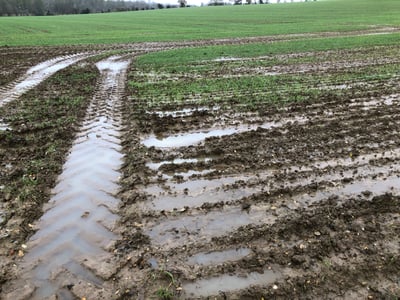 Of those crops which have been drilled successfully, the wet weather has impacted establishment rates and crop quality. Where growers adopted a higher seeding rate (235-250 kg/ha) germination rates have been adequate. Meanwhile, those growers that doggedly stuck to a reduced seeding rate (187 kg/ha) may see too few plants emerging as a result.
By and large those cereals which were drilled early have established relatively well, with emergence rates varying from 75% on heavier, more saturated land, to 85-90% on lighter soils. A lot of these early drilled crops also received their planned pre-emergence treatments with fields remaining relatively clean as a result.
Unfortunately, the subsequent wet weather has prevented the application of any follow-up herbicides or insecticides, with some later drilled crops being slower to emerge and also being adversely affected by rotting and slug damage.
The positive news is that where drilling has been delayed, black-grass control has been effective with only the very earliest sown crops containing black-grass plants at the 1-2 leaf stage.
In terms of oilseed rape performance, it's a very mixed picture. Some crops have performed well and have developed large canopies which will reduce the threat of competition from weeds, while others have fared much less well: large areas were severely affected by drought in the early autumn, and most areas have suffered from flea beetle damage – the two key factors which are still causing growers to write crops off. The subsequent wet weather has exacerbated problems by raising the threat of phoma and enabling more black-grass to emerge, but sprays are going on here and there and it's not too late to apply Crawler for added residual activity against black-grass, but applications should only be made if and when it is safe to do so (i.e. if and when field drains aren't running).
For those winter crops which remain viable, one of the biggest challenges will be ensuring crop protection products are applied on time, with many growers already expressing concerns about whether they'll be able to complete their intended programmes. Where timings have been interrupted by the weather and ground conditions, growers are in close dialogue with their agronomists to re-evaluate their strategies, in many cases electing to replace pre-emergence treatments with peri-post or post-emergence applications instead.
For growers who haven't been able to get all their autumn drilling completed, 'Plan B' will be to grow an increased area of spring wheat. Spring barley and spring pulses are also likely to feature, with some growers also giving serious consideration to growing more maize. In contrast, linseed, spring oats and soya all seem less popular due to fears associated with the potential for an unreliable and later harvest. For others, leaving empty ground fallow or growing a cover crop is also being mooted.
The knock-on effect from the wet autumn is that there will be repercussions all through next season: not only will growers be faced with the difficult task of managing backward crops in the spring, they are also likely to drill earlier next autumn – a decision which will undoubtedly make black-grass populations that bit harder to manage.
---
The North and North Midlands
Will Nicholls, Regional Agronomy Manager
While talking to growers and agronomists at a recent industry event, the consensus was that around 40-60% of autumn cereals had been planted across the country, with an obvious disparity between those who have very nearly or completely finished their planned drilling workload versus those who haven't managed to plant anything.
With significant hectarages of potatoes and sugar beet still to be lifted prior to Christmas, there is plenty of work to be done to get the ground ready for any remaining autumn seed to go in the ground early next year. At present it seems the better option is still to have seed in the bag rather than sitting in wet soil, with many growers confirming that they still hope to be able to complete more autumn/winter wheat drilling before giving up all hope entirely. Any additional drilling will preclude winter barley, with the majority of growers accepting that mid-November was the cut off point for feasible drilling.
Despite the exceptionally wet weather that has hampered so many workloads, some decent looking crops have been established successfully, with those drilled early on lighter land growing away well. More recently however, the cooler, wetter conditions have significantly slowed growth rates, but these crops are still looking better than most – the vast majority of crops are struggling through and, despite establishing relatively well, waterlogged seedbeds have proven problematic for subsequent crop development.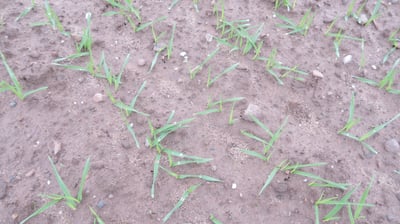 The inability to travel due to the wet conditions is also impacting weed control (as is the uncertainty of crop survival) with many planned pre-emergence treatments missed or likely to be missed unless conditions improve significantly. While weed competition may not prove to be too much of a threat in areas where the waterlogged conditions are also hampering the ability of weeds to emerge and develop, a reconfiguration of programmes is likely to be required on many farms, with growers expressing interest in learning which products have a more flexible label (e.g. Tower) so that they can ensure those products already sitting in the chemical store can be used up efficiently and effectively. The most likely scenario is that these amended crop protection programmes will be based on which crops survive the winter, but given that winter cereals should have a higher value at harvest, the programmes chosen are likely to reflect this.
The application of nutrients is also proving difficult with those crops that are sitting in water already showing the first symptoms of nutrient deficiency as we head into December. This is just another factor adding to the already heightened levels of crop and grower stress, but it's not all doom and gloom – there are some barley crops in my home country of Shropshire which are growing well on lighter soils and continue to do so, despite further heavy rainfall.
Switching our attention to oilseed rape, despite lots of crops having been lost to flea beetle damage, those crops that have survived the onslaught of pest damage look to be progressing well. Drilling date has been a major factor in cropping success, with the difference between August and September drilling dates making early and late drilled crops look like night and day. Unfortunately, those crops which are currently looking healthy may have future issues with flea beetle larvae which could pose a major problem in the New Year.
Spring crops are undoubtedly going to feature prominently in 2020, with spring barley the most popular option for growers in the North and Midlands – assuming of course they can secure a supply of seed. Other options include pulses as alternate break-crop options, with growers in the far eastern reaches of my region also considering sugar beet as a spring cropping option. Towards the west, maize is the more obvious choice. Oats are also a viable option as a partial break crop, with many growers in the region still having access to the necessary equipment given this crop's prominence in the recent past.
---
The South and South Midlands
Matthew Martin, Regional Agronomy Manager
As an average across the South and South Midlands, only 30-60% of winter wheat crops have been drilled to date, with the wide variation caused by a selection of the usual factors including geography, soil type, rainfall, machinery and labour availability. Several windows of dry weather, which have typically only lasted a few days at most, have helped to increase the total acreage drilled but the situation remains far from ideal and is of particular concern in the worst affected areas. The position is arguably even worse for winter barley, with just 10-50% of planned drilling completed.
It is unlikely any more winter barley will be drilled, but where conditions allow, some additional winter wheat may be drilled, at least until the prevailing weather conditions, soil temperatures or other conditions finally prevent further winter field work.
Of those crops which have been drilled, wheat on lighter ground has established well, but the recent cooling of air and soil temperatures has slowed growth to a minimum, with persistent rains in the past few weeks further hampering crop establishment and growth. These rains have had a greater effect on heavy ground with anecdotal evidence of wheat being established using fertiliser spinners – a tactic which clearly demonstrates the depth of concern felt by growers at the below average acreage established by this time in the year. Early drilled barley crops have also established well on lighter land, albeit a large percentage of the planned winter barley area was unable to be established due to weather and soil conditions.
In terms of oilseed rape performance, those crops which were drilled in early August have developed well with some now requiring PGRs and fungicide treatments prior to Christmas. Late August/early September plantings are generally less well established with localised exceptions. High levels of Cabbage Stem Flea Beetle predation and the subsequent elevated larval populations have reduced plant counts still further with the condition of surviving crops, as per previous seasons, uncertain at best. It is likely that many fields may be written off between now and harvest due to larvae damage. For those crops which remain viable, the heavy rainfall has reduced key nutrient indices in the soil making it necessary for foliar applications to be applied ahead of the usual spring application timing.
Pre-emergence herbicide treatments in oilseed rape have once again proved unpopular due to the uncertainty surrounding crop viability as a result of flea beetle damage, with the lack of herbicide treatments further exacerbated by the inability to apply herbicides later in the season due to the wet conditions. Where travel has been possible, delayed Crawler treatments have helped to tackle later black-grass flushes.
A range of approaches have been used to tackle weed control in wheat and barley with some growers and agronomists opting not to drill any crops which were unlikely to be able to be treated with an applicably timed pre- or post-emergence herbicide. Others have taken a slightly less cautious approach, choosing instead to spray drilled crops irrespective of the ground conditions, especially where weed pressures are at their highest. Meanwhile, a third approach has been to adopt a spring-only spray programme, but obviously only in fields where the current and predicted weed burden fits with the appropriate herbicide products.
To counter the lack of autumn drilling, most growers will be drilling a larger area of spring crops, with spring barley, spring oats, maize, grass, fallow and, to a lesser extent, spring wheat all planned for the undrilled acreages. Some spring linseed may be also be added to rotations, but the popularity of this crop is yet to be determined.