27 April 2020 - by Andrew Bailey - Cereals Fungicide Technical Specialist
4 min
2020 - Protecting barley at T2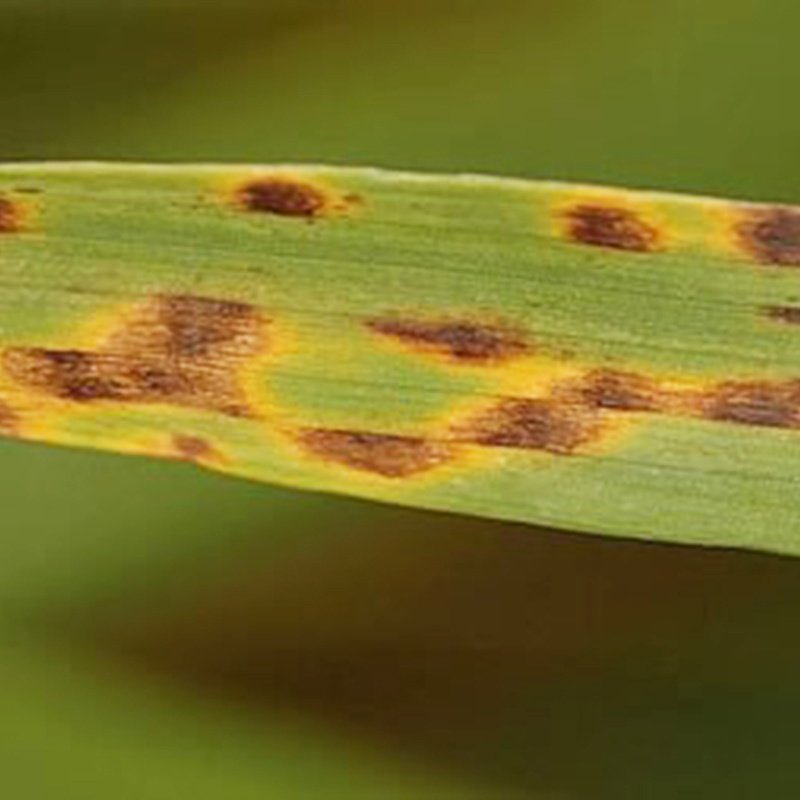 In this week's blog we focus on protecting barley crops at the T2 timing, paying particular attention to providing ongoing defence against net blotch and ramularia.
As the illustration below shows, the traditional spray programme for winter barley is for an optional T0 treatment as early as GS23 followed by a T1 spray using a robust application of broad spectrum fungicides at GS31. The subsequent T2 application is then made at GS39-49 with broad spectrum fungicides adjusted for dose plus, historically, chlorothalonil.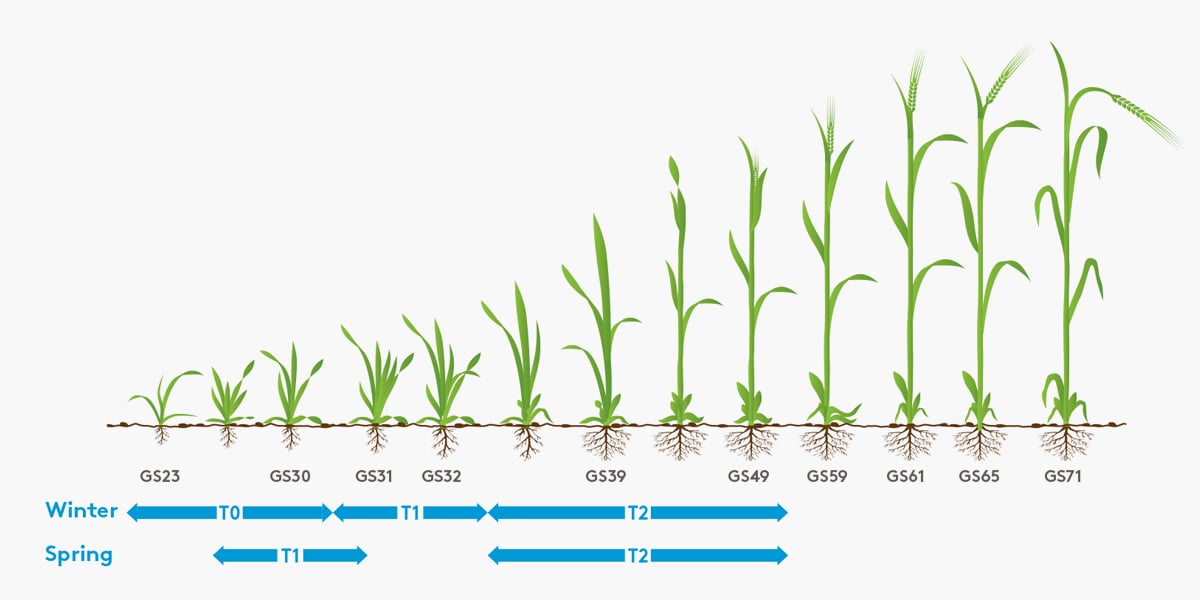 The primary purpose of this traditional T2 spray timing is to protect the barley crop at flag leaf emergence and booting (GS 39-49) from diseases such as ramularia and net blotch, with the aim of reducing spikelet mortality, preserving green leaf area and increasing the final number of grains per ear.
Ensuring the crop is adequately protected at this timing can prolong canopy duration, increase the availability of dry matter for grain filling and produce a higher thousand grain weight thanks to an increase in grain storage capacity and a reduction in the percentage of small grains or screenings.
More recently, as a result of the development of ramularia resistance to single site chemistry, growers are electing to adjust these timings so that the final spray can be delayed slightly in order to increase the period of ramularia protection.
A more modern spray programme for winter barley might therefore be as follows:
T0: not typically required as the T1 application is brought forward

T1 (GS30-31): robust, broad spectrum fungicides

T2 (GS37-39): broad spectrum fungicides adjusted for dose with

a multi-site

also included. Coincides with a PGR application

.

T3 (GS49-59): mainly a

multi-site

application, but with other fungicides topped-up if required.
Ramularia
T2 is the key treatment timing for the control of ramularia – a disease which, thanks to increased insensitivity to azole and SDHI chemistries and confirmed resistance to strobilurins, can only be controlled effectively through the use of a multi-site fungicide.
Chlorothalonil (CTL) has been the go-to multi-site in recent years, but its use-up date of 20th May will impact its inclusion in both winter and spring crops.
In winter crops, CTL can be included in T2 (GS39-49) and T3 (GS49-59) treatments if these applications are made prior to the cut-off date, but in backward crops this could be a close-run thing. For these later crops it will therefore be necessary to replace the CTL with folpet at both the T2 and T3 timings.
In spring-sown crops, it is advised that a multi-site fungicide should be used at T1 and T2, with the latter being the critical timing in order to extend green leaf retention and for protection against ramularia. As with winter crops, the use of CTL will be restricted: early drilled crops (those drilled before the end of March) are likely to reach T1 (GS25-30) before the 20th May deadline, so CTL could be included. However, for crops drilled towards the end of March and into mid-April, the majority of T1 treatments will take place after 20th May meaning CTL will not be an option. Irrespective of sowing date, all T2 (GS39-49) applications will take place after the 20th May deadline so this timing will not be eligible for CTL inclusion. In these situations, folpet, which, as well as providing activity against ramularia and supplementary activity against brown rust and mildew, will be the only multi-site option. Folpet has the added benefit of not interfering with the uptake of curative partner products and also provides control of rhynchosporium and can protect other chemistries as part of a resistance management strategy.
Net blotch
Net blotch can still be a concern in barley crops at the T2 timing. Unfortunately, SDHI insensitive isolates have been confirmed in the UK, with partial resistance to strobilurins also confirmed. Good resistance management practices (e.g. using an alternative mode of action such as cyprodinil) should therefore be used to protect further slippage of these "at risk" chemistries and to provide good ongoing disease prevention.
Cyprodinil is a fungicide of the anilinopyrimidine class: it provides good efficacy against rhynchosporium and net blotch as well as some intrinsic activity against ramularia. And it is flexible enough to be used alongside prothioconazole in highly curative rhynchosporium situations.
Crucially, cyprodinil is an entirely different mode of action to the usual array of SDHIs, azoles and strobilurins, making it a useful product to include in a resistance management strategy.
Prolonging canopy duration
The key to delivering high yields and good grain quality in barley is to maximise the crop's green area index, with early season green leaf retention crucial to outright yield, and late season retention critical to grain quality. It is therefore essential to protect and retain tillers for as long as possible through appropriate fungicide applications with both folpet and isopyrazam (IZM) proven to contribute to green leaf retention.
For conventional varieties each successive leaf has less green leaf area, with the flag leaf as much as 50% smaller than leaf 2. The lower leaves are therefore of greater importance for light interception and subsequent crop yield and grain quality. Stem reserves and ear photosynthesis are also key to yield in the 6-7 week grain filling period.
Light interception in conventional barley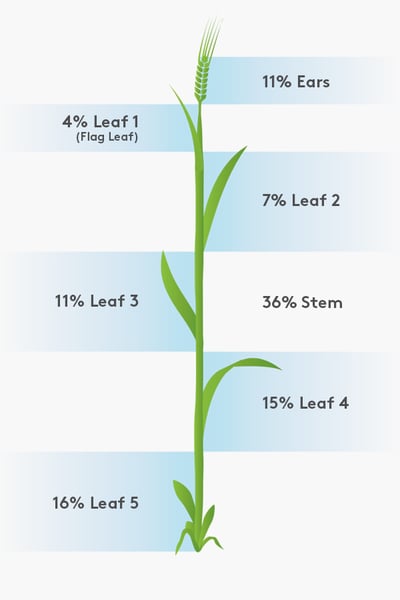 In contrast, hybrid barley varieties are more akin to wheat plants, with the upper leaves making a bigger contribution to yield and grain quality. Despite these differences, conventional and hybrid varieties will both benefit from an extended greening period.
---
Cebara® (also marketed as Bontima®) is a co-formulation of cyprodinil (187.5 g/l) and isopyrazam (62.5 g/l) for the control of a range of key diseases in barley. The 'double-binding' effect of the IZM molecule means it is more persistent than other SDHIs as it accumulates in and remains fixed to the cuticular wax of the leaf and binds strongly to its target site in the mitochondria of the fungus cells. The former bond ensures long-lasting protection while the latter provides strong efficacy by inhibiting the fungi's energy production.
Arizona® is a unique multi-site protectant fungicide containing straight folpet (500 g/l) for providing an anti-resistance strategy for the control of a range of diseases in barley and wheat.