As a multi-site inhibitor, ARIZONA® (500g/l folpet) is the ideal addition to cereal fungicide programmes this spring thanks to its ability to boost yields by providing cost effective efficacy against septoria, rhynchosporium and ramularia.
ARIZONA's multi-site mode of action also enables it to protect single site active ingredients (SDHIs, azoles and strobilurins) from the ongoing threat of resistance and can even extend the effective life of partner products.
ARIZONA also boasts the added benefit of being flexible enough to use at a range of application timings (from T0 right through to T2), thereby enabling its use to be tailored according to the current level of disease pressure and in accordance with the disease resistance rating of the variety being grown.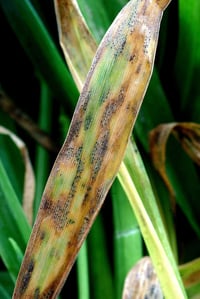 Multi-site fungicides such as ARIZONA not only provide good control of diseases such as septoria, but also boost yield and protect and prolong the efficacy of single site modes of action.
Yield improvements and valuable efficacy in wheat
A series of 26 trials carried out over a three-year period have shown that adding ARIZONA to wheat fungicide programmes at T1 consistently contributes to an average yield increase of 0.27t/ha. However, if disease pressure is high earlier in the season, ARIZONA is flexible enough to be included in the tank mix at T0.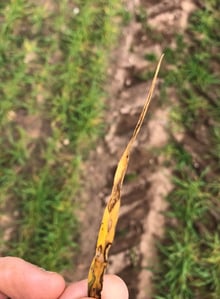 The continuing development of resistance means barley diseases such as rhynchosporium are now less sensitive to some single site fungicides.
Work carried out by ADAS in 2020 showed that Arizona also adds valuable septoria control when used in conjunction with leading products such as Ascra Xpro and Revystar: at a spend of £40/hectare, a two-spray programme of Ascra and Arizona delivered a 9% increase in efficacy compared to an equivalent spend on Ascra alone, with this benefit carrying through to an improved yield and enhanced margin over fungicide costs.
Jonathan Blake, ADAS Associate Director shares an independent dose response trial showcasing the value of folpet in a programme.
A unique mode of action
As a multi-site inhibitor, ARIZONA works against various bio-chemical pathways within fungal cells (interfering with spore germination, cell division and mitochondrial energy production) which makes it less susceptible to resistance compared to single site actives such as SDHIs, azoles and strobilurins.
This multi-site mode of action also contributes to ARIZONA's ability to extend the life of partner products: it is the only fungicide that has been proven to protect and prolong the effective life of single site actives, with modelling work carried out by ADAS demonstrating that partnering ARIZONA with fluxapyroxad can significantly extend the latter's in-field efficacy and double its effective life.
As such, FRAG UK (Fungicide Resistance Action Group) describes folpet as a "valuable tool to manage resistance and (one which) provides added levels of disease control whilst protecting and prolonging the efficacy of at-risk chemistries".
Folpet: the ideal T0 fungicide
T0 treatments are typically driven by the need to control yellow rust. However, in high-risk situations (where disease susceptible varieties have been drilled early or in an excessively wet and mild season) a T0 spray could be necessary to protect wheat against septoria – especially as persistent rainfall will provide the perfect conditions for septoria spores to thrive and spread between leaves via rain-splash translocation. Folpet application at T0 can also provide insurance against a delayed T1 application.
As well as providing effective protection against septoria, folpet also offers the added benefits of a) not interfering with the curative kickback activity of partner azoles, which is particularly important for effective yellow rust control and b) protecting azole partners against further erosion of efficacy due to resistance. And because ARIZONA boasts a flexible label which enables it to be applied at a maximum total dose of 3.0 l/ha per crop, applying 1.0 l/ha at T0 will still enable a further 2.0 l/ha to be split across the key T1 and T2 timings ensuring the crop is protected throughout the season.