With the current spell of cold weather forecasted to give way to milder conditions over the next few weeks, and spray operators gearing up for the start of the spring spraying season, we take another chance to talk to our Regional Agronomy Managers to find out how crops have fared over the winter months and to get their crop protection advice for the coming months.
Meet the team...
Will Nicholls – The North and North Midlands

Matthew Martin – The South and South Midlands

Chris Stockdale – East Anglia and the South East

How did last autumn's drilling season unfold in your region?
The North and North Midlands
After 2019's waterlogged conditions, autumn 2020 was certainly more favourable for the majority of growers in the North and North Midlands. That's not to say we didn't get our fair share of rainfall post-harvest, but as least the majority of drilling went ahead as scheduled. The weather did turn noticeably wetter as autumn progressed which meant some later drilling work had to be put on hold, but overall, conditions weren't too bad.
In terms of timing, whether or not growers decided to delay drilling very much depended on the scars of 2019, with the eagerness to get crops drilled early outweighed, for some, by the need to delay drilling in order to maximise black-grass control. In general, fields with a lower black-grass burden were drilled up first, with more problematic areas left fallow for as long possible to allow for alternate weed control methods.
The South and South Midlands
With 2019's extensive flea beetle damage still very fresh in growers' memories, a lot of OSR was drilled early in the South and South Midlands. Some winter cereals were also drilled a little earlier than they would otherwise have been, with growers wary of getting caught out by waterlogged conditions later in the autumn. Indeed, some later drillings were hampered by wet conditions, causing some ground to be left fallow over the winter and in need of remedial work to prepare soils for spring-sown crops.
East Anglia and the South East
While the majority of cereal drilling was delayed until well into October, a lot of growers in East Anglia and the South East understandably elected to drill earlier than normal last year. Those cereals and OSR crops that did go in early subsequently established well, with this certainly helping rape crops to withstand flea beetle pressures.
It remains to be seen what the long-term effect of drilling early will be in terms of black-grass control in cereals, but so far residual herbicide treatments seem to have done a robust job.
The weather certainly took a turn for the wetter as the autumn progressed, with some growers, especially in parts of North Norfolk, struggling to complete drilling work on schedule.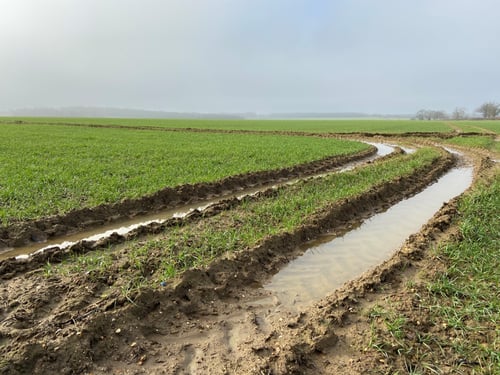 Headland tramlines still full of water in many fields in Suffolk at the beginning of February
Once drilled, how did crops fare?
The North and North Midlands
While the favourable conditions in the first half of the autumn enabled early drilled OSR to race away and develop a strong canopy which was able to withstand the threat of flea beetle damage, a minority of early drilled cereals didn't fare quite so well: it seems as though the haste to get everything drilled may have resulted in high weed populations, meaning it was back to square one for the worst crops which subsequently needed to be re-drilled.
Elsewhere, cereal establishment was good, with the main challenge being how to control weeds on water-logged soils. Some recent hard frosts have made travel possible, but the heavier rainfall in recent weeks has turned even the lightest of soils very wet.
The South and South Midlands
Early OSR drilling has resulted in some very well-established crops, with some fields almost too far forward by the time autumn crop protection and nutrition applications were applied.
Early drilled cereals also established well, but many of these crops are now having to contend with significant volunteer populations which are the result of windy conditions during last August's harvest.
In previous years the damage caused by burgeoning flea beetle populations has largely negated the need for growth regulators. However, without the same level and spread of pressure this year, there has been a definite increase in focus on the use of PGRs or fungicides with a growth regulatory effect.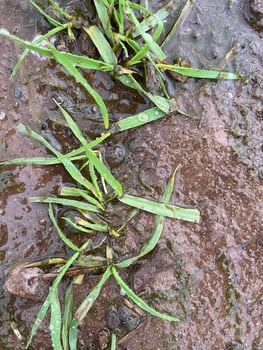 A drowned barley plant
East Anglia and the South East
Sugar beet has been a huge disappointment in the Eastern Counties, with poor yields as a result of yellow virus, leaving many growers to count their losses and, in some cases, to review their contractual commitments for 2021.
In light of recent weather patterns and cropping difficulties, how have growers amended their cropping strategies for 2021?
The North and North Midlands
With so much land lying fallow in 2019/20, the over-riding strategy this year has been to drill as early as possible.
The South and South Midlands
As mentioned above, a lot of crops went in early with growers having to adapt their disease, weed and nutrition strategies accordingly.
East Anglia and the South East
While the final OSR cropping area is still unconfirmed, there is clearly much less being grown this year with many growers simply giving up on the crop as a result of CSFB damage.
How has the weather affected crops this winter?
The North and North Midlands
It has been another wet winter, with heavy rainfall and snow to contend with in many parts. On the more forward, lusher crops, some disease was present prior to Christmas but these infections have been quelled by the recent cooler conditions. Evidence of mildew can still be seen in some barley crops along with hints of rhynchosporium. That said, disease development and crop growth have both halted for the time being with many crops currently sitting in cold, wet soils. Of course, this could all change as the weather warms up over the coming weeks.
The South and South Midlands
Mild, wet weather dominated the first half of the season, with colder temperatures more commonplace in late December and into January and the first half of February. This has enabled diseases to survive in the majority of crops, albeit at generally low levels especially in western areas.
OSR has continued to develop well during the winter with well-established rooting systems overcoming mild waterlogging. However, more shallow rooting cereals – especially those drilled later on – have struggled to establish or make decent headway in some areas.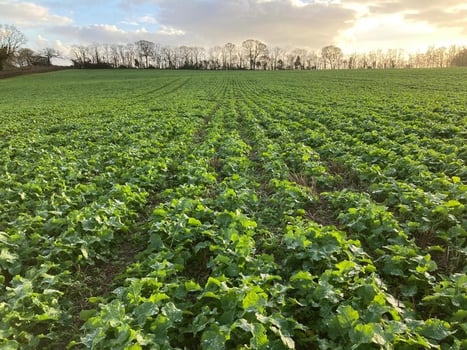 Field of OSR
East Anglia and the South East
It has been another wet and, at times, very cold winter in the Eastern Counties and South East. Overall crops have fared relatively well although growers should be on the lookout for eyespot on susceptible cereal varieties which might benefit from a timely application of Mirage (450 g/l prochloraz).
One of the biggest factors affecting crop development at present is the need for some early spring nutrients, with growers eagerly awaiting an improvement in field conditions to enable them to travel.
What have been the biggest challenges so far this season?
The North and North Midlands
The weather is always the biggest barrier to success, especially in the more northerly regions, so getting a viable crop in the ground feels like a big victory this year, especially when you consider how disastrous the previous 12 months have been.
The South and South Midlands
Put simply, the biggest problem is the weather. Or, more specifically, the rain. Once again, the wet weather meant many pre- and post-emergence herbicide applications were missed which has resulted in a need for corrective action to be taking in the coming months. The wet weather has also contributed to nutrient leaching which will also need to be rectified as soon as possible to prevent existing soil and crop nutrient deficiencies from undermining crop performance later in the year.
East Anglia and the South East
It's a similar picture in the east where the wet conditions meant some growers failed to apply autumn residual herbicides on time. Controlling difficult weeds such as black-grass will subsequently be a much bigger challenge as we move into the spring.
In terms of OSR management, particularly for larger, more forward crops, the biggest challenge at the moment is the urgent need to apply nitrogen and, in some cases, sulphur.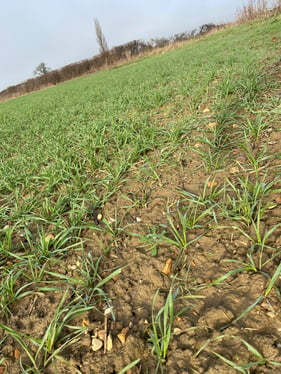 Majority of winter cereals have come through winter ok in the eastern region. Albeit snow still in the forecast for some!
How are crops currently looking?
The North and North Midlands
Despite the weather's best attempts to hamper proceedings, most crops are doing OK, albeit the majority are at a standstill. The biggest worry is that the current propensity of soil moisture could combine with warmer temperatures to cause an explosion in disease pressure as we head into the spring.
The South and South Midlands
Cereals are at a range of growth stages depending on drilling date: from leaves unfolding to approaching tillering in the more forward crops. OSR crops are at the side shoot formation stage, or a little further ahead at early stem elongation.
East Anglia and the South East
Most crops are doing relatively well, but there is a worry that the wet winter may have encouraged Light Leaf Spot to take hold in many oilseed rape crops: that's definitely something growers need to be aware of and to keep an eye out for as we move into spring.
What's next on the agenda this season?
The North and North Midlands
As and when conditions allow, growers are busy playing catch up by applying herbicides to those crops which didn't receive an autumn treatment due to the wet conditions. As soon as conditions are favourable – which for some could be a while yet – spring cultivation work will need to get under way.
The South and South Midlands
Current workloads are being dominated by two priorities: addressing nutrient imbalances and targeting those weeds missed in the autumn. Cereal weed control strategies will need to take into account crop competition, while forward OSR canopies will require careful management of N applications and are also likely to require sulphur early in the season. Spring cultivations will also be upon us fairly soon, although there's a lot of water to get rid of before any meaningful field work can get underway in earnest.
What piece of advice would you offer to growers going into the spring?
The North and North Midlands
With disease levels currently relatively low, it would be all too easy to get lulled into a false sense of security. Unfortunately, we can no longer rely on curative fungicides to eradicate diseases once they set in. Therefore, with the amount of moisture around at the moment, it is going to be essential to keep a keen eye on disease levels and to apply some effective disease protection. Varietal disease resistance traits should be used to determine which crops are likely to need attention first and which will be able to wait until further into the spray window.
The South and South Midlands
As always, the key is to plan workloads by prioritising those crops which require urgent attention over forward or cleaner fields. Growers should also think about purchasing crop protection products in advance (in order to negate any Brexit or Covid conspired supply delays) so that they are in hand and ready to be applied as soon as conditions allow.
East Anglia and the South East
With wet ground conditions comes the ever-present threat of increased slug pressure and the need to apply a good quality, long-lasting and palatable bait such as Gusto IRON.
In terms of disease prevention, growers should be looking to add a multi-site fungicide such as Arizona (500 g/l folpet) into the equation – not only as a good contact protectant against septoria and ramularia, but also as a cost-effective way of boosting yields and safe-guarding at-risk single site actives.
For sugar beet crops, a pre-emergence herbicide (Goltix or Goltix Titan) should be applied to get on top of problem weeds as early as possible.