With disease resistance continuing to threaten the efficacy of some single-site fungicides, growers are encouraged to include a multi-site fungicide in their spring spray programmes – not only to provide added crop protection, but also to future-proof the efficacy of at-risk active ingredients.
This article covers:
SEPTORIA RESISTANCE IN WHEAT
The septoria fungicide toolbox is limited to three main groups of chemistry: azoles, SDHIs and multi-site fungicides.

Azoles
Despite azoles such as prothioconazole and epoxiconazole playing an important role in septoria control, they are no longer fully effective as curative products: their curative efficacy has fallen by more than 60% over the last 10 years, with their preventative effect also reducing by 20%. This is compounded by the revocation of epoxiconazole (currently in its last season), but mitigated by the introduction of Revysol (mefentrifluconazole) which is going into its second season as a fully curative azole versus septoria.
Source: AHDB
SDHIs
SDHIs (succinate dehydrogenase inhibitors) remain effective against septoria in a protectant role but provide limited curative effect. They continue to offer broad spectrum control of other foliar diseases but need to be used in moderation in order to protect them from the increasing threat of resistance

Resistance to single site chemistry continues to shift, with work carried out by Rothamsted Research showing decreasing septoria sensitivity to azole and SDHI fungicides.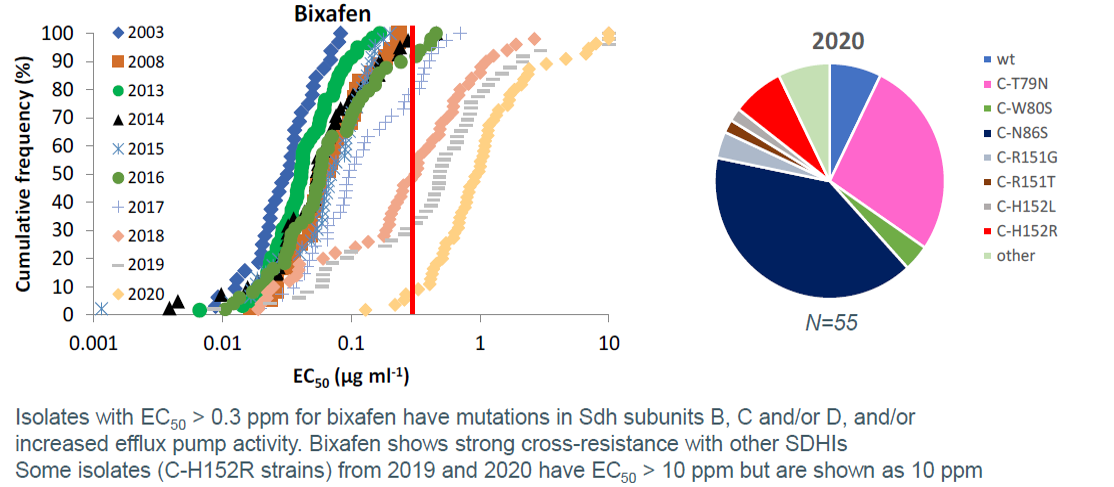 Source: AHDB
Multi-sites
Multi-site fungicides remain a vital tool in the control and management of septoria: ARIZONA (500 g/l folpet) affects a number of different metabolic pathways within a pathogen and continues to provide good protection against septoria. It has no known resistance and is recognised by the Fungicide Resistance Action Group (FRAG) as a valuable tool for managing resistance thanks to its ability to provide added levels and spectrum of disease control which can protect and prolong the lifespan of medium to high resistance risk fungicides like SDHIs.
DISEASE RESISTANCE IN BARLEY
Barley fungicide resistance is becoming increasingly problematic with the control of ramularia hampered by a reduction in the efficacy of prothioconazole and SDHIs. Strobilurins are already largely ineffective against ramularia and only offer variable protection against net blotch. Sensitivity shifts have also been confirmed in SDHIs versus net blotch.
This makes the multi-site active ingredient, folpet, an important element in the control of rhynchosporium and ramularia.
Current field Performance of barley fungicides:
Azole resistance
Rhynchosporium: the performance of the azole group of fungicides has been in decline for a number of years although prothioconazole performance remains stable and Revysol provides good efficacy.
Net Blotch: despite the existence of sensitivity shifts for a number of years, the azole group remains relatively stable, with prothioconazole still giving good levels of protection. Revysol also provides good activity.
Ramularia: reduced sensitivity has been seen across the azole group, with prothioconazole field performance issues reported in the UK since 2017. The ability to control ramularia infections with prothioconazole has been significantly reduced. Revysolis active against ramularia but there is evidence to suggest it needs to be partnered with a multi-site (folpet) to protect it against resistance build up and to safeguard its efficacy against ramularia.
Strobilurin erosion
Rhynchosporium: strobilurin performance is variable thanks to G143A resistance. Whilst efficacy has reduced, the best performing strobilurins continue to give decent protection.
Net Blotch: partial resistance as a result of the F129L mutation has caused field performance to decline, performance now variable at best.
Ramularia: monitoring shows that the G143A mutation now affects almost 100% of the UK ramularia population, therefore rendering strobilurins ineffective.
SDHI setbacks
Rhynchosporium: despite a 'moderate' risk of resistance, SDHI fungicide performance remains stable at present and works well in mixtures with other actives.
Net Blotch: isolates with reduced sensitivity to SDHI chemistries were first recorded in the UK in 2013, with reduced field performance confirmed in 2016. Further resistance development is anticipated.
Ramularia: disease mutations to SDHIs have been detected across Northern Europe, with field performance issues confirmed in the UK since 2017. SDHIs currently provide variable efficacy at best.
Cyprodinil activity
As a unique mode of action belonging to the anilino-pyrimidine group of chemicals, cyprodinil is a useful addition to the barley arsenal as it increases the diversity of modes of action and reduces the potential for further resistance to single site chemistries to develop.
Rhynchosporium & net blotch: performance is stable with no evidence of any sensitivity shifts or erosion in efficacy.
Ramularia: while only providing relatively low levels of activity against ramularia, its performance remains stable.
Folpet for ramularia control
In contrast to single site modes of action, ARIZONA (500 g/l folpet) has no known resistance issues and provides contact protection against rhynchosporium and ramularia.
In barley, ARIZONA is flexible enough to be used at T0, T1 and T2: a well-timed T1 spray (typically GS 30-32 in winter barley or GS 25-30 in spring barley) is key to protecting the crop at tillering/stem extension and should be followed by a subsequent treatment at T2 (typically GS 39-49) to provide continued protection. ARIZONA is also flexible enough to be used at T0 (GS 25-30) and T3 (GS 49-59) where a three-spray programme is adopted in some winter barley crops, but growers must be aware that a maximum total dose of 3.0 L/ha is allowed.
FUTURE-PROOFING DISEASE CONTROL
In order to protect the current armoury of fungicides, growers should implement the following tactics:
Create a diverse fungicide programme

Use several modes of action – including folpet – in a stacked and sequenced approach to prevent the over-use and over-exposure of any single active ingredient
Use the minimum effective dose of each fungicide to control the pathogen(s) being targeted
Integrate a range of cultural control methods to minimise disease

Select disease resistant varieties to reduce the initial risk of infection
Delay drilling to prevent early season infections
Reduce the disease threat by using cultivation and establishment methods which remove volunteers and bury trash and debris from the previous crop
Avoid using seed from affected crops as this can act as a source of re-infection
Keep ahead of the disease

Use disease forecasting tools to predict when crops are at risk from infection so that fungicides can be applied at the optimum preventative timing
Disease resistant varieties will naturally be able to withstand infection for longer, so spray susceptible varieties first.
Use a multi-site fungicide
In wheat, include ARIZONA (500 g/l folpet) in the tank mix at T1 as a priority, and at T0 or T2 depending on the season: the T0 timing will be appropriate if high disease pressure develops early in the season, with the T2 timing more appropriate for providing protection of single site chemistries.
In barley, ARIZONA (500 g/l folpet) should be included in the tank mix at T1 and T2 to protect the crop against rhynchosporium and ramularia at tillering and beyond. The most effective timing for ramularia control with folpet is T2/T3 (GS39-59) but results have shown improved efficacy from an additional earlier timing at T1.
---
ON-FARM FOCUS
We recently spoke to Richard Cromie of Crop Management Partners LLP to hear his tactics for early-season disease control
How do you decide whether or not to apply a fungicide at T0?
Whether or not a crop receives a T0 treatment comes down to three main factors: drilling date, variety and what disease is present in the crop. I saw plenty of yellow rust in wheats prior to Christmas, especially in varieties such as Skyfall. The ensuing cold spell in January and February knocked this disease pressure back a little, but not completely. My main focus for a T0 this season will therefore be to control any prevailing yellow rust, but I'll also be keeping an eager eye on the low level of septoria and eyespot that is also around.
With regard to timing, I tend to work backwards from the flag leaf spray, making sure there is no more than 3.5 weeks between sprays. On that basis I'd say we're still a couple of weeks away from making any T0 applications.
When you make your T0 applications, which active ingredient(s) will you use?
Wheats with an active yellow rust problem will be treated with tebuconazole, although it needs to be the right formulation as some products are less curative than others. If there is no active yellow rust, I may elect to use a strobilurin on those varieties that are susceptible to yellow rust and keep the triazole up my sleeve for later applications. Using a strobilurin will also give more tank mix flexibility.
How important is it to use a multi-site fungicide at this early stage in proceedings?
In years when septoria has been the driving factor for a T0 treatment – either due to poor varietal resistance or increased disease pressure due to climatic and seasonal conditions – I would definitely consider a multi-site such as folpet at T0. This year however, the disease pressure on the crops I walk isn't high enough to warrant its includsion at T0 so I will wait until T1 and possibly T2 to apply folpet when it will not only provide good disease protection by will also play an important role in terms of resistance management.